Minimum alcohol prices set
A minimum price per unit of alcohol will be introduced in England and Wales alongside plans to ban the sale of multi-buy discount deals, the Prime Minister has announced.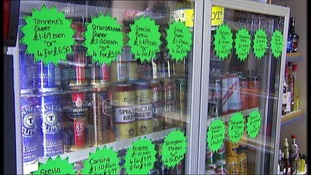 A look through the plans that the Government has announced to a change in it's 'alcohol strategy'
Read the full story
Gavin Partington of the Wine and Spirit Trade Association has said that the unit pricing will not tackle 'problem drinkers.'
Advertisement
Shadow Home Secretary, Yvette Cooper, has claimed the Government is trying to cover a bad budget by rushing through 'something which is so serious' with little notice to MP's, during a debate on the alcohol strategy.
A Tesco spokesperson said:
We are very keen to play our part in the fight against alcohol misuse. We are committed to engaging constructively in discussions with government on ways we can help, including minimum pricing, and look forward to doing so in the coming months
Sam Bowman, Head of Research at the Adam Smith Institute believes a minimum price per unit for alcohol is not needed to tackle alcohol consumption in Britain:
Minimum alcohol pricing is intensely regressive. It only hurts poor and frugal drinkers, leaving drinkers of expensive wines and other drinks untouched. Minimum alcohol pricing is anti-fun Victorian paternalism, and the government is engaged in a misguided moral crusade against drinking.

In fact, there is no significant drinking problem in Britain. We drink less than we did ten years ago and less than we did one hundred years ago. Britons drink less per person than the French, Germans, Spanish, Belgians and Czechs.
Henry Chevallier, Chair of the National Association of Cider Makers (NACM) said:
The cider industry is extremely disappointed with the Government's new legislative approach. There has been no consultation despite the great impact this legislation could have on our industry, which contributes significantly to the local, rural economies where our members are based.

The NACM recognises that we must find a solution to alcohol misuse, but Minimum Unit Pricing is not a silver bullet, therefore a commitment to implement it without debate is not how we expect Government to operate.
Advertisement
The Home Secretary, Theresa May, has said that the Government's plans for alcohol reform cover a range of measures - not just minimum unit pricing.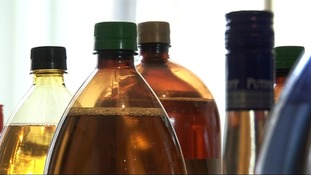 David Cameron will tackle what he calls 'the scourge of violence caused by binge drinking'
Read the full story
In the North East:
49% of men in the North East drink too much
1/3 women in the region are drinking too much
ITV News Tyne Tees has more facts and information from the area.
Bolton Hospital's Doctor Kieran Moriati says Government plans to set a minimum price for a unit of alcohol is "a victory for common sense".
Load more updates
Back to top