Dead UK troops to be named
Two British soldiers who were killed in southern Afghanistan by a person wearing an Afghan National Army uniform will be named today.
Deborah Haynes, defence editor for The Times newspaper, has told ITV News that the Afghan soldier suspected of killing two British soldiers had had a 'clean record'.
Speaking from Lashkar Gah, she said he would have had "plenty of opportunities in the past to unload his weapons" on Western troops, and that sources tell her he must have "flipped".
Deborah Haynes is the Times' defence editor, currently in Lashkar Gah, Afghanistan, where two British soldiers were killed.
Flags flying at half-mast at UK's Lashkar Gah #Afghanistan base after death of soldier and marine, everyone is back to work as usual though
Helmand police chief had interesting theory. He said rogue Afghan soldier had flipped and likened it to alleged US killing spree in Kandahar
Advertisement
The Times' Defence Editor (£) Deborah Haynes, who is in Lashkar Gah, has interviewed people about the two UK soldiers shot dead by a rogue Afghan soldier.
He got close to the foreign troops — three or four metres — and he opened fire. Then the foreign troops killed him."
– Ghulam Farooq Parwani, local Afghan commander
The point of these attacks is to put a wedge between the ANA [Afghan National Army] and Isaf and in our case the advisers."
– Lieutenant-Colonel Bill Wright
The Afghan people have had 30 years of war. Some of the new generation is crazy [as a result]."
– Matiullah, 24, one of the new recruits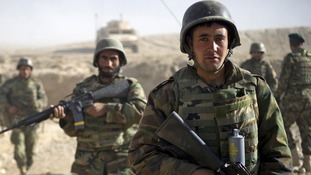 Two British troops have been shot dead by an Afghan colleague, while a third soldier, believed to be US, was killed by an Afghan policeman.
Read the full story
A senior US military official has told NBC News that the Nato soldier killed by an Afghan Local Police officer in the east of the country was an American.
Earlier two British troops were shot dead by an Afghan soldier.
16 Nato servicemen have been killed by Afghan Security forces so far this year.
Lieutenant Commander Brian Badura from Isaf says they are trying to work out just what happened when two British soldiers were killed by one of their Afghan colleagues.
Advertisement
A Nato serviceman has been shot dead by an Afghan policeman.
The soldier, who was not British, was killed at an Afghan Local Police checkpoint in the east of the country.
Officials say an investigation is underway into the attack, which follows the killing of two British troops by an Afghan soldier.
The footage shows a Police HQ in Lashkar Gah in Afghanistan near where two British soldiers were shot dead by an Afghan National Army gunman.
Spokesman for Task Force Helmand, Major Ian Lawrence, said: "Sadly, I must report that a Royal Marine and a soldier from the Adjutant General's Corps were shot and killed by an Afghan National Army soldier at the main entrance to Lashkar Gah Main Operating Base.
"The thoughts and condolences of everyone serving in the Task Force are with their families and friends."
The soldiers' families have been informed and have asked for a 24 hour period of grace before further details are released.
Shadow defence secretary Jim Murphy added his tribute to the victims, saying they were in the "thoughts of all of us". He questioned the procedures for vetting recruits to the Afghan security forces.
He said: "Since 2007, Afghan forces have attacked Nato forces, resulting in 75 fatalities. Most of these attacks have taken place over the past two years.
"In light of previous incidents, what new procedures have been implemented to vet Afghan recruits?"
Load more updates
Back to top