North Sea gas leak
Shell has removed oil workers from two offshore rigs in the North Sea after a serious gas leak at a nearby Elgin platform, operated by Total.
Engineers are still trying to find the source of the leak.
by Debi Edward: Scotland Correspondent
Total UK plans to use a remotely-controlled submarine to locate the source of the gas leak at its Elgin PUQ oil platform in the North Sea. It has drafted in experts from around the world to help.
Total has flown in 10-20 specialist engineers to tackle the leak and enlisted the services of Wild Well Control, which was heavily involved in the BP's Deepwater Horizon oil spill in the Gulf of Mexico in 2010.
Advertisement
Total UK is considering all options including drilling a relief well to stem a massive gas leak at its Elgin PUQ oil rig in the North Sea, which could take six months, a spokesman told Reuters on Tuesday.
There are two options for intervening. One is drilling a relief well which could take about six months. The other is a platform intervention to kill the well...This would be a faster option. We expect to decide on a plan in the coming days.
– David Hainsworth, health, safety and environment manager, Total E&P UK
A gas cloud has encircled the Elgin PUQ platform and can be seen from miles away, STV reports. There is also a visible sheen on the water measuring six nautical miles (seven miles) in length and is caused by gas condensing.
David Hainsworth of Total E&P UK, which operates the Elgin PUQ oil rig, admitted that the release of gas could go on "for a significant period of time". He said:
The gas is flammable but the platform power was turned off to minimise risk of ignition, but clearly there is a risk. We have taken away a series of risks but there is always a possibility, it's low but you never say never. The best-case scenario is that the gas in this area is not very productive and it dies off in the coming days and weeks. At the moment there is no real evolution of the sheen on the sea but if that was to change - and it's monitored on a daily basis - then the exclusion zone may be increased, but at the moment it will probably stay the same.
– DAVID HAINSWORTH, Health, Safety and Environment Manager, Total E&P UK
Aerial footage of Total's Elgin PUQ oil rig in the North Sea before the recent gas leak.
Advertisement
Jake Molloy, Regional Organiser of the OILC union, told STV on Monday that if reports of gas bubbling up through the water under the platform are true then the situation is likely to be "very volatile".
He said there may be a risk of explosions and of the poisonous gas hydrogen sulphide, although added that the evacuation had been quick and efficient.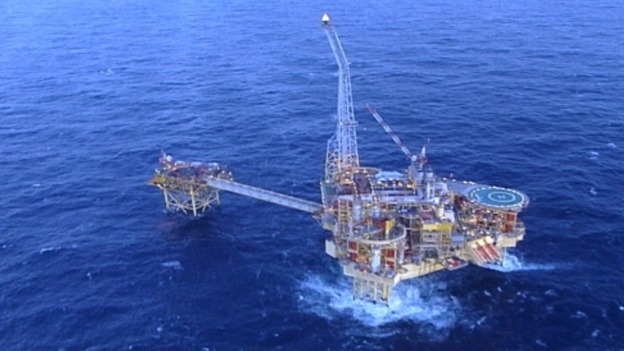 Three oil platforms have been evacuated after a gas leak was detected at Total's Elgin PUQ platform on Sunday. All staff have now been evacuated from the Elgin platform.
Shell has evacuated 85 staff from its nearby Shearwater and Noble Hans Deul rigs as a "precautionary measure". It leaves a workforce of 117 people at the two rigs.
Aberdeen Coastguard said an exclusion zone of two nautical miles (2.3 miles) around Elgin has been set up, with ships and aircraft ordered to stay away from the area.
by Debi Edward: Scotland Correspondent
Engineers are still trying to find the source of a gas leak that has led to the evacuation of 238 workers from the Elgin PUQ oil platform 150 miles off the coast of Scotland. A two-mile exclusion zone has been set up around the platform.
Shell has said its decision to evacuate workers from a neighbouring platform last night was "precautionary".
Shell is removing workers from two offshore installations close to a Total platform which has been evacuated after a gas leak. The leak on the Elgin PUQ platform, about 150 miles off the coast of Aberdeen, led to the evacuation of all 238 workers.
Load more updates
Back to top