Queues as drivers rush to fill up
Petrol stations across Britain are reporting fuel shortages and long queues as the Government dismissed accusations that it had triggered panic buying ahead of the impending strike by fuel tanker drivers.
Fuel from panic-buying by motorists on Wednesday will bring in more than £32 million in extra fuel excise duty.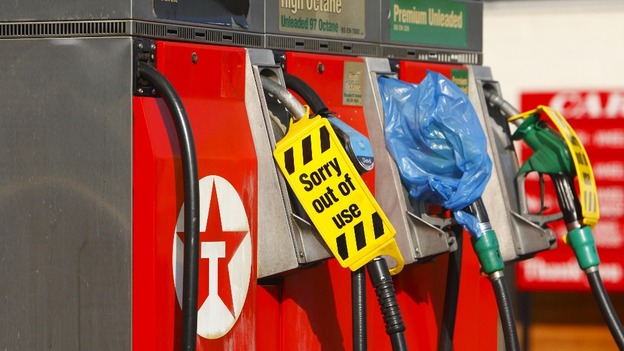 The AA calculated the figure after petrol sales shot up by 81% and diesel by 43% as motorists flocked to garages across the UK to fill up following advice from ministers.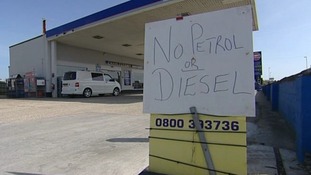 Motorists have been ignoring calls not to panic buy fuel prompting shortages and queues at petrol forecourts across the country.
Read the full story
Advertisement
Petrol stations in Yorkshire were running out of fuel today as demand soared. But one petrol station owner told ITV News there was no need - there were plenty of fuel deliveries planned.
For further coverage from ITV Calendar click here.
Half of Weymouth's petrol stations have run dry in the wake of panic-buying in the town.
See ITV's West Country's coverage here.
Long queues have been forming at petrol stations across Britain, as the Government dismissed accusations that it had triggered panic buying.
These images were taken at a Tesco petrol station off the A3.
People are contacting ITV News from all over the country saying that petrol stations are facing shortages.
People living in the countryside, where there are fewer petrol stations, are finding themselves stuck. Andrea Mary Graves lives in Louth, Lincolnshire where there are only two garages. One has run out of fuel and the other has large queues.
ITV Meridian reports that Weymouth, Dorset is out of diesel fuel and that petrol has run dry at two out of six stations in the town. At least one petrol station has run out of fuel in Leeds, ITV Granada reports.
Advertisement
Philip Dingle is a member of the RMI Petrol Association in Attleborough in Norfolk. He says there would not be a problem if motorists only bought what fuel they needed.
There is no fuel tanker strike and therefore if drivers followed normal fuel-buying patterns there would be no fuel shortage whatsoever.
– AA president Edmund King
The London Fire Brigade has urged businesses to place warnings on websites and petrol cans so that people don't accidentally fall foul of the law, following panic buy at petrol stations.
The law states that people should only store petrol in metal containers of a maximum of 10 litres or plastic containers of a maximum of five litres and people should have no more than two of each. Ron Dobson, Commissioner of the London Fire Brigade, said:
"We want businesses to act quickly and get the legal petrol storage messaging on petrol cans and on websites advertising these products. Members of the public need to know how much and where they are allowed to store, so that they do not accidentally break the law."
– Ron Dobson, Commissioner of the London Fire Brigade
Damon Green reports on the fuel shortages in Cardiff, Wales.
Load more updates
Back to top