Biggest ever lottery jackpot
The draw for the biggest ever lottery jackpot - $640million - has been made, and three lucky winners have been declared.
US 'Mega Millions' lottery winner comes forward
A Kansas winner of a share of the record U.S. $656 million (£410m) Mega Millions lottery has come forward, the Kansas lottery says.
The winner has asked to remain anonymous, but an official said the Kansas Lottery will release some details about the winner in the next few hours.
Lottery officials said a week ago that three winning tickets were purchased, one in Kansas, one in Illinois, and one in Maryland.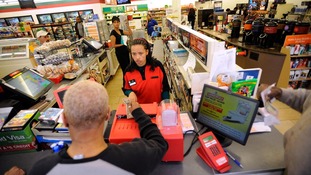 The largest lottery jackpot in U.S. history will be shared three winning ticket holders - but their identities remained a mystery.
Read the full story
Advertisement
Three lucky winners share record jackpot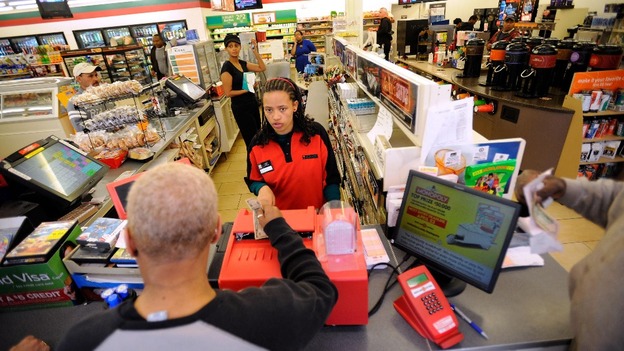 Lottery ticket-holders in Illinois, Kansas and Maryland each selected the winning numbers for the world record-breaking $640 million Mega Millions jackpot, officials have said.
The tickets were sold in two stores in Illinois and Maryland, whilst the Kansas ticket was bought online.
Americans spent nearly 1.5 billion dollars for a chance to hit the jackpot.
The odds of winning the jackpot were 1 in 176 million.
Winning lottery ticket bought in Baltimore County
Maryland lottery officials say a ticket purchased in Baltimore County hit the $640 million Mega Millions jackpot http://t.co/RaKrSAY5
From
@cnnbrk
on Twitter:
Confusion over lottery result
According to the Kansas Lottery someone won the $640,000,000 jackpot. Click Like if it wasn't you. http://t.co/kYE5aa6M
From
@KSNNews
on Twitter:
No winner in biggest ever lottery
#lottery WSB, the official Mega Millions broadcaster, now says THERE IS NO NATIONWIDE WINNER! Tuesday's jackpot -- 975 million!!!!!!!!
From
@KCBSKCALDesk
on Twitter:
Advertisement
The world's biggest ever lottery jackpot draw
Mega Millions draw - has someone won $640 million?
The draw for the world's biggest ever lottery prize has been completed.
The winning numbers are 2, 4, 23, 38,46 and the Mega Ball is number 23.
US united in lottery musings
ITV News' Bill Nealy says the impending Mega Millions draw has united the United States in conversation and musings as to what you could buy with $640million...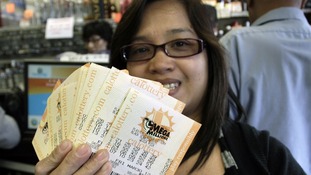 US excitement is building around the world's largest lottery jackpot - at least $640 million (£400m).
Read the full story
Back to top