Snow homes still without power
Thousands of homes in the north of the country remain without power following heavy snow.
Spotter helicopters are searching the North Yorkshire Moors and parts of County Durham to find snow-damaged power lines which have left hundreds cut off.
Engineers have restored the power to approximately 78,000 properties in the North East and Yorkshire since power cuts struck on Tuesday night, but more than 1,000 homes remain without power.
Northern Powergrid said the number of properties still without power now stands at 1,700.
Engineers are on site throughout the area and the spotter helicopter is being deployed once again to help locate the damaged overhead power lines."
– Spokesman, Northern Powergrid
We apologise to the 1,700 customers without power due to severe weather, we are working hard to restore power asap
Advertisement
Parts of Britain face freezing temperatures in the run up to Easter weekend.
Forecasters said that while no more snowfall is expected, it would be bitterly cold in East Anglia, the Midlands, southern England and Wales, where temperatures will drop to -3C and -4C by Friday night.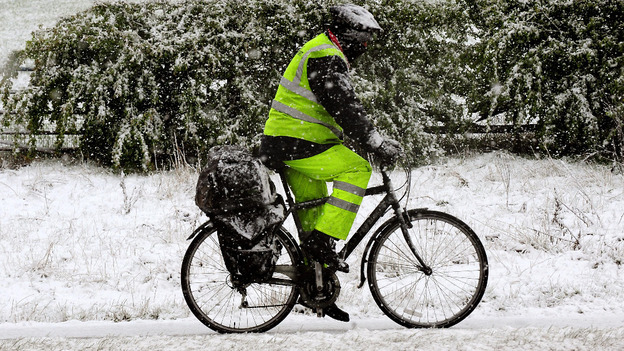 Some homes in the North East and Yorkshire are still without power as parts of Britain woke up to freezing temperatures.
Around 90,000 homes across northern England suffered power cuts since the bad weather arrived on Tuesday afternoon.
Between six and eight inches of snow fell in high parts of the Peak District, Pennines and Cumbria overnight.
Thousands of homes are still without power after heavy snow and strong winds.
Energy company Northern Powergrid say they're working to reconnect electricity to 8 thousand properties across the north of England. Some have been without power for close to 36 hours.
by Ben Chapman, ITV Tyne Tees and Border
The number of houses in the North East without power has fallen slightly - but that won't be much comfort to the 12,000 homes still cut off by severe weather.
Stay up to date with coverage from ITV Tyne Tees.
Advertisement
Northern Power Grid says 25,000 homes are still without power in North Yorkshire, Northumberland and County Durham.
We can confirm that we have completed a major repair in Whitby and restored supplies to 12,000 properties affected.

As at 15:00, there were around 25,000 customers without power supplies across 180 identified faults on our network, with the worst affected areas being those on high ground in southwest Northumberland, west County Durham, the North Yorkshire Moors and some parts of West Yorkshire.

Our engineers are continuing to work in difficult conditions to restore power to those customers affected as quickly as possible.
– Northern Power Grid
Durham Police: "All roads affected by snow have reopened and traffic is moving freely again."
For more on weather conditions in the north east, check ITV Tyne Tees.
Pictures taken from a helicopter show how parts of Britain tried to clear a path through the snow to carry on as normal. The footage was filmed near Selby in North Yorkshire.
ITV Calendar has the latest on how power cuts are affecting the region after snow and high winds.
Emma Murphy says journeys that usually take minutes are taking hours. Some drivers in the North West have had to give up altogether.
You can find out more about how the snow is affecting the north of England from ITV Granada.
Load more updates
Back to top