Archbishop's Easter message
The Archbishop of Canterbury Rowan Williams gives his final Easter Sermon today before standing down in January 2013.
The Archbishop Rowan Williams used his final Easter address to talk about the place of religion in society and in education. He said that despite the public debate about the "usefulness" and "social value" of religion, it is worshippers' personal relationship with God that matters.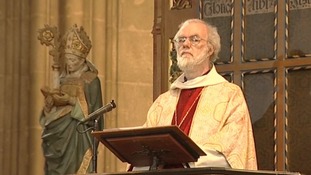 The Archbishop of Canterbury, Dr Rowan Williams delivered his final Easter sermon before he steps down from the role later this year
Read the full story
Advertisement
The Archbishop of Canterbury Rowan Williams will talk about religious education in schools when he gives his Easter sermon today. He will say:
There is plenty to suggest that younger people, while still statistically deeply unlikely to be churchgoers, don't have the hostility to faith that one might expect. They at least share some sense that there is something here to take seriously when they have a chance to learn about it. It is about the worst possible moment to downgrade the status and professional excellence of religious education in secondary schools.
– Archbishop of Canterbury Rowan Williams
Back to top