North Korea rocket crashes
North Korea's rocket splintered and crashed into the sea minutes after it was launched, South Korea's Defence Ministry said.
South Korea has unveiled new cruise missiles, capable of hitting any target in North Korea, they revealed today.
Seoul's defence ministry said it had completed deploying the missiles, and officials added that the deployment should serve as a 'warning' to North Korea.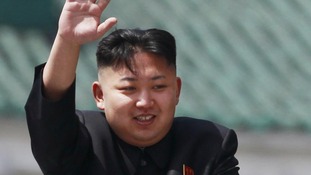 North Korea's celebrations was an attempt to show that the country will continue to demonstrate their power on a global platform.
Read the full story
Advertisement
China's Foreign Ministry has called for the denuclearisation of the Korean peninsula, after North Korea said it was ready to retaliate in the face of international condemnation over its failed rocket launch.
Foreign Ministry spokesman Liu Weimin made the comments at a regular briefing, adding that all parties should exercise calm and restraint as they work toward a negotiated solution.
Many analysts said there was increasing likelihood that Pyongyang would push ahead with a third nuclear test.
The isolated and impoverished state said it would not allow the inspectors from the International Atomic Energy Agency to enter the country, dashing any hopes that the country's new leader, Kim Jong-un, would seek closer ties with international community.
The US envoy to the United Nations has said that North Korea has previously followed rocket launches with nuclear tests and warned Pyongyang that exploding another atomic device would be catastrophic for the impoverished country.
US Ambassador Susan Rice said :
"Clearly the potential for that pattern to persist is one that all members of the international community are mindful of and think would be a disastrous course for the North to pursue. It will only lead to the North's increased isolation."
North Korea followed its 2006 and 2009 missile launches with nuclear tests, prompting the 15-nation Security Council to impose sanctions on Pyongyang.
The U.N. Security Council has strongly condemned North Korea's recent failed rocket launch as a violation of council resolutions and warned it would take further action in the event of a new missile launch or nuclear test.
North Korea admitted its long-range rocket failed to deliver a satellite into orbit on Friday while U.S. and South Korean officials said it crashed into the sea a few minutes after launch.
U.S. President Barack Obama said that the United States would work with the international community to further isolate North Korea.
Obama said in an interview with Telemundo:
It's important to know that they've been trying to launch missiles like this for over a decade now and they don't seem to be real good at it. But obviously this is an area of deep concern.

We will continue to keep the pressure on them and they'll continue to isolate themselves until they take a different path.
Advertisement
Susan Rice, U.S. Ambassador to the United Nations, says the Security Council have denounced North Korea's failed rocket launch as 'deplorable,' but that it would continue talks on an appropriate response to the actions of the hermit state.
It's gone midnight in the press centre set up for the rocket launch in North Korea and no official has spoken to reporters to explain its failure.
The U.S. will not go forward with planned food aid to North Korea, the White House has confirmed, after the impoverished nation unsuccessful bid to launch a long-range missile which Washington had warned would have consequences.
"We are not going forward with an agreement to provide them with any assistance," White House National Security Council spokesman Ben Rhodes.
The White House has also said that further provocative actions will lead to the U.S. examining other sanctions.
North Korea's failure to launch a satellite rocket has caused 'embarrassment', during a week intended to be a 'huge celebration' for the country.
Load more updates
Back to top