bmi takeover: 1200 jobs at risk
British Airways' takeover of bmi could result in 1,200 redundancies.
Jobs facing the axe are at bmi's head office at Castle Donington in Leicestershire and at regional airports.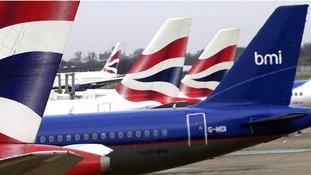 Talks begin tomorrow with the unions to discuss where the 1,200 job losses at bmi will come from.
Read the full story
Richard Hardy of the Prospect union, which represents engineers, said that the bmi takeover will have a particularly bad effect on the East Midlands.
Over 400 jobs will be lost in the East Midlands alone, over 100 of them high quality engineering jobs.

This is yet another body blow to local economies. Not only will it cause personal hardship and uncertainty for the individuals affected, it will also have a devastating knock-on impact on local businesses, shops and communities. There will be similar, though smaller, impacts in Birmingham, Glasgow and Edinburgh.
– Richard Hardy, Prospect union
Advertisement
Talks between the unions and British Airways on BMI job losses will start tomorrow morning. BMI routes, livery and the schedule will survive until the end of summer. British Airways aims to incorporate everything, including painting 25 planes, by the autumn.
It is worth remembering that the BMI sale to BA does not include BMI Baby and BMI Regional. The future of those parts of the firm not certain yet.
General secretary of the pilots' union Balpa said:
Our hearts go out to the large number of bmi HQ-based staff who appear to have borne the brunt of today's announcement, but each job loss is a personal tragedy.

We will be pressing for maximum redeployment opportunities for all bmi pilots, including bmi mainline, bmibaby and bmi Regional, inside BA.

These are uncertain times in the aviation industry and it is not helped by Government aviation policy on air passenger duty which is pricing many
– Jim McAuslan, general secretary of the pilots' union Balpa
International Airlines Group (IAG) - the parent company of British Airways - will be forced to give up a number of take-off and landing slots from Heathrow, as part of the bmi takeover. Routes to Nice, Cairo, Moscow and Edinburgh will be affected.
On gaining EC approval for the deal, IAG chief executive Willie Walsh said it was "great news for Britain" and also for British business and consumers.
The takeover has been bitterly opposed by Sir Richard Branson's airline, Virgin Atlantic, which has complained that the deal gives BA an over-strong presence at Heathrow.
Advertisement
The acquisition of bmi mainline will give British Airways an additional 56 average daily slots at Heathrow, of which up to 14 will be available to other carriers. Retained slots will be used to expand BA's operations at Heathrow with new destinations and more schedules.
Discussions with potential buyers for bmibaby and bmi Regional are continuing.
bmi is heavily loss making and is not a viable business as it stands today. Our proposals would secure around 1,500 jobs that would otherwise have been lost.
As we look to restructure the business and restore profitability, job losses are deeply regrettable but inevitable. We will work with the unions to explore as many options as possible and are already working with industry partners.
This deal is good news for our customers and will offer new destinations, new routes and new schedules in due course. For customers with bmi bookings to or from Heathrow this summer, it is business as usual and customers can continue to book with confidence.
– Keith Williams, BA's chief executive
British Airways have said without its takeover of bmi, all 2,700 jobs at the company could have been lost.
The jobs facing the axe are at bmi's head office at Castle Donington in Leicestershire and at regional airports.
Jobs secured include 1,100 cabin crew, pilots and engineers at Heathrow and up to 400 passenger service roles at Heathrow's Terminal One.
The takeover of bmi by British Airways is set to lead to up to 1,200 job losses, the airline announced.
Back to top