Bahrain violence
Police and protesters have clashed in Bahrain at the funeral of the activist who was killed during the Grand Prix weekend.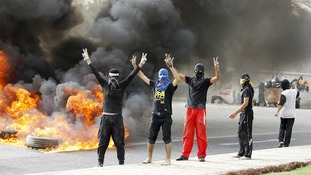 Demonstrators hurled petrol bombs during nightly clashes with the police who responded by firing teargas and rubber bullets.
Read the full story
I'm a Formula One fan myself, I strongly support the sport, but I think they made the wrong judgment in holding this race as a fixed part of the calendar at this time, when human rights abuses are very serious.
– Peter Hain, Shadow secretary of state for Wales speaking to Sky News' Murnaghan programme
Advertisement
I hope both sides show restraint, I deeply regret that someone appears to have been killed, obviously everybody is imploring them to keep down the level of violence, but I don't think the cancellation of the Grand Prix actually would make a very great deal of difference.
I don't think it's a matter for politicians in Britain to decide whether to or not. Essentially in the end it's up to Formula One and the people who the run the sport and the teams.
– Ken Clarke speaking on Sky News' Murnaghan programme
A spokesman for the Bahrain Information Affairs Authority has said that measures are in place to prevent any disruption to the controversial Grand Prix taking place today. He said:
Guaranteeing is difficult, but we have the best measures in place. I'm very confident and assure everybody about safety.
The Head of Foreign Relations at the Bahrain Human Rights Centre has claimed that Zainab al-Khawaja may not have been released by police.
The daughter of a prominent opposition activist who is though to be close to death after entering his 74th day of a hunger strike was arrested during a protest on Saturday. Initial reports suggested that she was released several hours after.
A funeral march for a protester who reportedly died in anti-government protests in Bahrain will probably take place on Sunday, setting the scene for more violent clashes.
A body, said to be that of Salah Abbas Habib, 36, was found sprawled on a rooftop in Shakura, near Manama.
Several witnesses as well as the opposition party Wefaq say he was beaten by police and that he may also have been hit by birdshot.
Advertisement
The daughter of a prominent Bahraini opposition activist who has been on hunger strike for over two months has been arrested for trying to stage a protest in the capital Manama, activists said.
Activist Sayed Yousif al-Muhafda said Zainab al-Khawaja, who has been arrested before only to be released several hours later, was taken by police after she tried to protest near the Financial Harbour in the capital.
She was among protesters who riot police tried to prevent marching inside the city's market area, a Reuters witness said.
Crowds of masked protesters hurled petrol bombs at police who fired tear gas back in Bahrain on Saturday, turning the streets into a battle zone on the eve of a Formula One Grand Prix that demonstrators say glorifies a repressive government.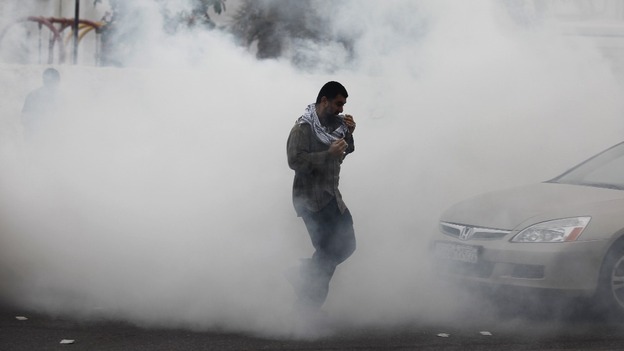 Protesters were fired up by outrage over the death of one of their number, whose body was found sprawled on a village rooftop after overnight clashes with police.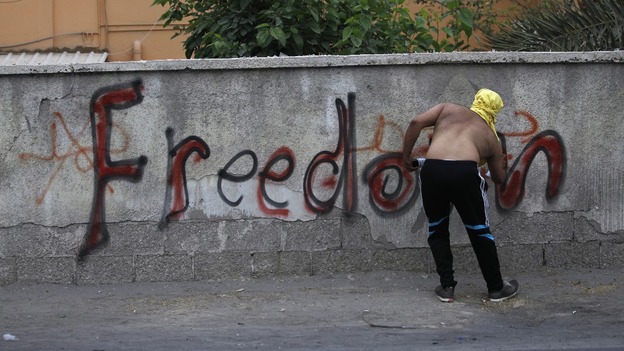 Around 7,000 marchers held banners calling for democratic reforms. Some banners depicted Formula One race car drivers as riot police beating up protesters.
Bahrain's government has spent $40 million to host the global luxury sporting event, hoping to demonstrate that normal life has returned to the Gulf island kingdom after it cracked down harshly on Arab Spring demonstrations last year.
Bahrain Foreign Secretary Khalid Alkhalifa has confirmed on Twitter he has had a conversation with William Hague.
He added: "I reiterated Bahrain Emphasised that all should accept dialogue as the way forward."
Load more updates
Back to top