Karzai blasts Nato 'failure'
Afghan President Hamid Karzai said a "failure" by intelligence services, including Nato, was partly to blame for the weekend's Taliban attacks on Kabul.
US Defence Chiefs have said intelligence reports indicated that the Haqqani Network were planning a high - profile attack in Afghanistan. However, there were no indications that recent attacks in Kabul originated in Pakistan.
US Defence Secretary Leon Panetta told reporters that the attacks that began on Sunday, reflected the resilience of the Taliban and associated militants such as the Haqqanis.
The US Secretary of State Hillary Clinton has spoken to Pakistan's Foreign Minister about Sunday's attacks in Afghanistan, and stressed their shared responsibility to "confront terrorists", in a statement.
Clinton also discussed the "next steps in the US-Pakistani dialogue" following the conclusion of a Pakistani parliamentary review, US State Department Victoria Nuland said.
Advertisement
The Afghan news and translation company Kabul Pressistan has published this translation of Afghan President Karzai's statement on Sunday's attacks.
The office of the Afghan President Hamid Karzai has released these figures relating to Sunday's coordinated attacks by insurgents:
36 insurgents killed, one captured
11 members of Afghan security forces killed, around 40 injured
Four civilians killed, 32 injured
The Afghan President Hamid Karzai has said that an "intelligence failure" led to the coordinated attacks on Kabul and three other Afghan provinces. A statement from his office said:
The fact terrorists were able to enter Kabul and other provinces was an intelligence failure for us and especially for Nato.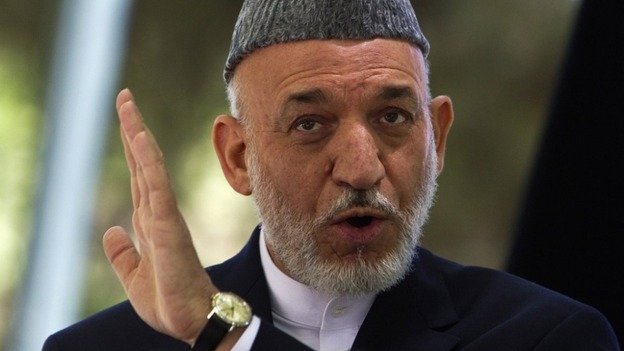 The Afghan President Hamid Karzai has strongly condemned Sunday's attacks in Kabul and three other regions of Afghanistan.
He added that the response showed that Afghan security forces are capable of defending their country, although he said it was a "failure" by intelligence services, especially Nato.
Advertisement
The Afghan Interior Minister has said that the reason it took 18 hours to defeat the insurgents was because Afghan forces were trying to ensure the safety of civilians. An interior ministry spokesman said earlier that no civilians died in the attacks, but nine were injured.
Afghan security forces were protecting the civilians in busy areas amid a lot of residences where the attacks took place.
– Bismillah Mohammadi, Afghan Interior Minister
Nato's senior civilian representative in Afghanistan, Ambassador Sir Simon Gass, has said that Afghan security and intelligence forces dealt with the coordinated attacks well, despite the fact that it took 18 hours for the insurgents to be killed or captured. He told BBC Radio 4's Today programme:
It's always easy to criticise intelligence when they fail to stop an attack but we have to remember that they do actually foil a large number of attacks throughout Afghanistan...The Afghan security forces actually did a very good job yesterday...The fact that there wasn't a huge loss of civilian life...is a tribute to the Afghan army and police.
The Afghan TV network TOLONews has uploaded this video of shooting in Kabul this morning. Fighting in the capital has now stopped, according to the Afghan Interior Ministry. ITV News cannot confirm the veracity of the footage or the date it was shot at present.
Afghan government and intelligence sources have said that most of the insurgents travelled wearing burqas. Afghan Interior Minister Bismillah Mohammadi and intelligence operative Wazir Akbar Khan both made the claim to reporters on the ground.
Load more updates
Back to top