Injuries after Gatwick landing
All flights in and out of Gatwick were suspended earlier after a plane made an emergency landing following a technical fault. Runways have since reopened but passengers should expect 'knock-on disruptions'. 15 people have been treated in hospital.
Gatwick Airport have issued another statement confirming that their main runway has now reopened, following an aircraft having to make an emergency landing earlier today:
Following the incident earlier today when a Virgin flight bound for Orlando made an emergency landing, our main runway re-opened at 15.23 and is now fully operational for departing and arriving flights. However, passengers should expect some knock on disruptions as a result of the earlier flight suspensions.
Flights were suspended for around two hours until our standby runway opened at 1400. As a result of the incident, 26 flights were diverted and nine flights were cancelled.
– Gatwick Airport
Gatwick Airport have issued a statement confirming that their standby runway is 'now open' and flights are now arriving and departing.
Following the emergency landing of a Virgin flight bound for Orlando earlier today, our standby runway is now open and flights are departing and arriving.

We aim to return to normal operations as soon as possible.
– Gatwick Airport
Advertisement
Very sorry to all passengers on board VS27, the staff @virginatlantic are doing everything they can to look after everybody. More info soon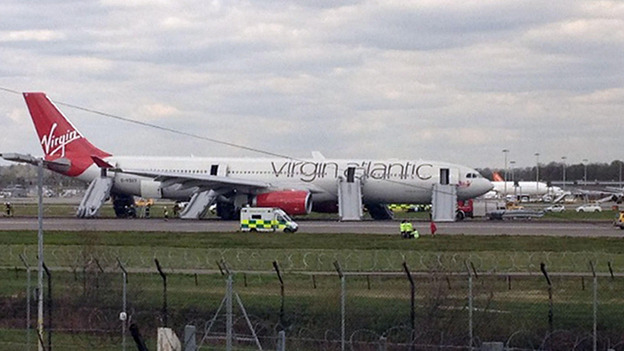 Virgin Atlantic has issued a statement confirming that all passengers and crew have 'safely been disembarked' from flight VS27, which had to make an emergency landing at Gatwick Airport. They are now working closely working with authorities to establish the cause of the incident.
Lorna Willson, 23, who works in a building that overlooks the runway, said she saw the immediate aftermath of the landing.
I was just eating my lunch and I noticed the plane - they usually take off quite quickly but this one didn't go anywhere.Then I realised all the chutes were out and there were lots of fire engines and police.I think the passengers had been taken off, but you could see a few stewardesses.There was quite a lot of emergency services there.
– Eyewitness Lorna Willson
Virgin Atlantic has said there were "four minor injuries" in the Gatwick emergency landing incident.
Advertisement
Daisy Howarth's flight was on the tarmac bound for Cuba when a tannoy announced that the runway was closed because of an emergency landing. Hear the account she gave to ITV London:
Gatwick airport says that flight departures and arrivals have resumed after a plane made an emergency landing earlier today, the Associated Press reports.
A Gatwick spokeswoman has said the passengers involved in the emergency landing were being looked after in a specially set-up reception area at the airport.
Some incoming flights have been diverted, with some now landing at Stansted Airport in Essex instead.
The spokeswoman did not know how long it would take for the plane to be moved from the runway and normal take-offs and landings to resume.
The Virgin flight that was forced to make an emergency landing at Gatwick airport today was an A330-300. Here are some facts about the aircraft:
340 seats - 59 Premium Economy and 255 Economy
It was the first twin-engined long range aircraft in Virgin's fleet
Fitted with Rolls Royce Trent 700 engines
Virgin describe it as "the most efficient aircraft in its class"
Fitted with touch-screen technology and over 300 hours of entertainment content
Load more updates
Back to top