Fracking 'should resume'
A controversial gas drilling technique which was stopped after triggering earthquakes near Blackpool is likely to be re-started - but with rigorous controls.
The anti-fracking campaign group Frack Off has released this response to the Government-commissioned report into risks associated with the process:
This report is a seriously dangerous distraction. People need to understand that the wave ofunconventional gas development [including fracking] that is threatening the British Isles will bringwith it far greater consequences than a number of small earthquakes...This report missesall the real issues such as sub-surface damage to wells causing them to leak,the much larger earthquakes seen in the US as a result of widespread shale gasdevelopment and the potential effects on sensitive infrastructure like nuclearpower stations and railway lines.
The word 'fracking' comes from hydraulic fracturing
It involves injecting high pressure water and chemicals into shale rock to release natural gas
The Bowland Basin prospect site in Lancashire contains 200 trillion cubic feet of gas
Just a fraction of that represents a significant energy resource
Advertisement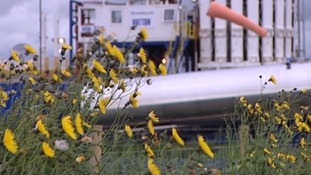 A controversial gas drilling technique which was stopped after triggering earthquakes near Blackpool could be re-started.
Read the full story
The operator of the well in Lancashire, Cuadrilla Resources welcomes today's report:
We are pleased that the experts have come to a clear conclusion that it is safe to allow us to resume hydraulic fracturing, following the procedures outlined in the review. Many of today's recommendations were contained in the original expert studies we published in November last year, and our supplementary information sent to DECC in January. We have already started to implement a number of them in the pursuit of best practice.
– Mark Miller, Chief Executive of Cuadrilla
We are grateful to the authors of the report and have launched a call for evidence to give people a chance to express their views on the report. Responses to the call for evidence will be carefully considered before ministers make a final decision.
– DEPARTMENT OF ENERGY AND CLIMATE CHANGE
If shale gas is to be part of the UK's energy mix we need to have a good understanding of its potential environmental impacts and what can be done to mitigate those impacts. This comprehensive independent review of evidence suggests a set of robust measures to make sure future seismic risks are minimised - not just at this location but at any other potential sites across the UK.
– David MacKay, Department of Energy and Climate Change
Advertisement
A controversial gas drilling technique which was stopped after triggering earthquakes near Blackpool is likely to be re-started. The company involved with the site at Preese Hall well in Lancashire has accepted strict recommendations aimed at preventing public alarm, including:
A tremor even too small to be noticed above ground should result in an immediate shutdown
Remedial action would have to be carried out before work could be resumed again
A report calls for monitoring of the site using seismic sensors
Steps to ensure excess pressure cannot build up beneath ground
Load more updates
Back to top