Sound tackles prostate cancer
A pioneering new type of prostate cancer treatment is using sound waves to target individual cells. It could prove highly effective and have fewer side effects.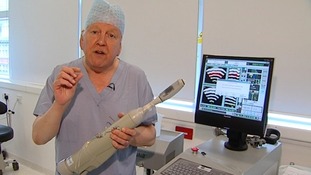 Trials on a new prostate cancer treatment have radically cut down on side-effects
Read the full story
I am at University College Hospital in London learning about a promising new treatment for prostate cancer. See my full report on the ITV Lunchtime News at 1:30pm.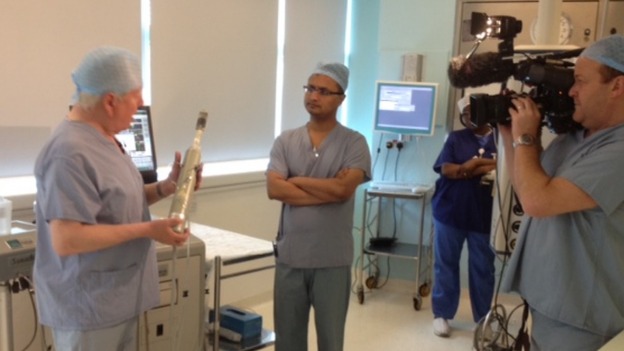 Advertisement
The Prostate Cancer Charity has welcomed research published today that suggests a new treatment (focal HIFU) can dramatically reduce the side-effects of traditional treatment, which include incontinence and impotence.
However, it warns that the sample size is too small to be conclusive at present:
We need to remember that this treatment was given to fewer than 50 men, without follow up over a sustained period of time. We look forward to the results of further trials, which we hope will provide a clearer idea of whether this treatment can control cancer in the long term whilst ridding men of the fear that treating their cancer might mean losing their quality of life.
– Owen Sharp, Chief Executive, The Prostate Cancer Charity
Prostate cancer is the most common cancer in men.
In the UK, more than 37,000 men are diagnosed each year
The condition leads to approximately 10,000 deaths
Standard therapy currently involves treating the whole prostate
Commonly, radiotherapy is used or surgery - which removes it completely
We're optimistic that men diagnosed with prostate cancer may soon be able to undergo a day case surgical procedure, which can be safely repeated once or twice, to treat their condition with very few side-effects
– Dr Hashim Ahmed, University College Hospital
A new prostate cancer treatment could provide more effective and targeted results:
A light beam of ultrasound heats up cancer cells in an area as big as a grain of rice to 80 degrees
The intensity of heat totally destroys the cancer cells
It cuts down on damage to healthy tissues and reduces side-effects
Treatment is known as HIFU (high-intensity focused ultrasound)
Advertisement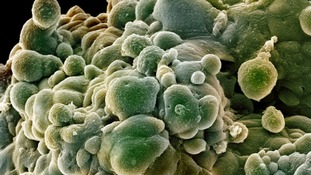 Doctors are using a light beam of ultrasound to destroy cancer cells, with very few side effects.
Read the full story
Back to top