UK pledges extra £10bn to IMF
The Chancellor George Osborne has pledged a further £10 billion to the International Monetary Fund's bailout package.
It won't require approval from MPs as he has only committed around £30 billion of the £40 billion loan approved by Parliament.
The Chancellor George Osborne has faced criticism for pledging an extra £10 billion ($16bn) to an IMF bailout fund, on top of the £30 billion already committed. So how much extra funding have other countries pledged?
Japan - $60 billion
South Korea - £15 billion
Switzerland - $10 billion
Australia - $7 billion
US - nothing
Canada- nothing
Shadow Chancellor Ed Balls has criticised George Osborne after he pledged a further £10 billion to the International Monetary Fund's bailout package.
Advertisement
Christine Lagarde, Managing Director of the International Monetary Fund (IMF), gives her reaction on Twitter after the IMF raised more than $430 billion for its bailout fund.
An extraordinary day -- our members pledged to increase IMF resources by over $430B to help fight the crisis.... http://t.co/C9HxICfm
Christine Lagarde, the IMF's managing director, said the total lending capacity of the IMF is now "north" of $1 trillion.
The G20 group of major economic nations says it has firm commitments to lend more than $430 billion to the International Monetary Fund's global bailout fund.
It is disappointing that the Chancellor has not taken the opportunity to press the wealthy eurozone countries to dig into their own pockets and establish a strong firewall of their own, before offering up more funding from Britain.

There is a real risk that yet another sticking plaster response will mean the eurozone continues to duck the tough decisions they need to take.
– Ed Balls, Shadow Chancellor
Advertisement
Given the tight nature of Britain's finances, it is concerning that George Osborne may be throwing good money after bad with this agreement.

If the IMF is going to be given even more funding, then the Government should strongly insist that it is only lent as part of a plan that is a feasible solution, not simply to stave off a crisis for a few more months.

Although no one has ever lost money lending to the IMF, every investor knows that past performance is not necessarily a guide to the future.
– Graeme Leach, Chief Economist at the Institute of Directors
This is not just sensible, it is essential. The IMF is the only fire-brigade available to the global economy. It is vital that the IMF has the necessary tools to deal with the current eurozone crisis and the risks to wider global financial stability.
– Andrew Tyrie MP, Chairman of the Treasury Select Committee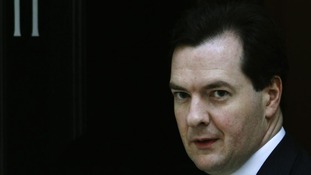 George Osborne faced fury from Tory backbenchers after he announced Britain is to commit just under £10 billion to the IMF.
Read the full story
The Chancellor has said that the extra £10 billion IMF loan is in Britain's best interests.
Load more updates
Back to top