Taylor guilty of war crimes
An inquest has heard how scientists cannot rule out if spy Gareth Williams was poisoned before being dumped in a bag. It's because it took MI6 a week to realise he was missing.
Because of an agreement that was struck at the very start of this whole process, it's almost certain Charles Taylor will serve his sentence in a British prison. But he is likely to appeal today's verdict, so the chances are, he won't be transferred there until much later in the year.
The prosecutors here today were understandably delighted with events. They made history in The Hague but they say far more important than that is the message it sends to dictators elsewhere: 'You can no longer rule with impunity, you can no longer rule with the gun.'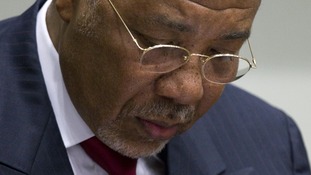 The former Liberian president Charles Taylor was today found guilty of 'aiding and abetting' war crimes during Sierra Leone's civil war
Read the full story
Advertisement
#CharlesTaylor: justice has been done. Remember his victims, & remind #Assad: there is no expiry date for crimes against the innocent
And in a statement released by the Foreign Office, Mr Hague added: "This landmark verdict demonstrates that those who have committed the most serious of crimes can and will be held to account for their actions.
"It demonstrates that the reach of international law is long and not time limited and it demonstrates that heads of state cannot hide behind immunity.
"The verdict can only be a small comfort for the victims and relatives of those killed. But the Court's authoritative view of what occurred will play an important role in helping the people of Sierra Leone come to terms with the past and consolidate national reconciliation."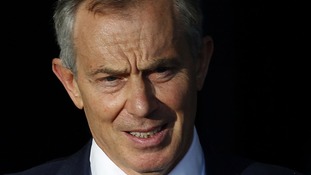 The former Prime Minister Tony Blair has told ITV News that the UK played a strong role in freeing the country from 'gangster and thugs'
Read the full story
According to his defence team, Charles Taylor is "stoic" about today's verdict and is considering an appeal.
I spoke to David Crane, the former Prosecutor for the Special Court for Sierra Leone, who originally indicted Charles Taylor. He described today's verdict as a victory for the people of Sierra Leone above all.
I also spoke to one of the many thousands of victims of Sierra Leone's civil war. Edward Conteh is President of the Amputee and War-Wounded Association in Sierra Leone and he told me that he won't be completely satisfied until Taylor is sentenced on 30th May.
The lead prosecutor in the Charles Taylor case, Brenda Hollis, addressed reporters after today's verdict.
She pointed out that Mr Taylor is the first former head of state to be convicted by an international criminal tribunal since the Nuremberg Trials of Nazi leaders in 1946.
Advertisement
The lead prosecutor in the Charles Taylor case, Brenda Hollis, gave this statement to reporters following today's verdict:
I applaud the conviction of Charles Taylor...This conviction is one more victory in the very important fight against impunity. Today is for the people of Sierra Leone, who suffered horribly at the hand of Charles Taylor and his proxy forces. This judgement brings some measure of justice to the many thousands of victims who paid a terribly price for Mr Taylor's crimes...Today's historic judgement reinforces the new reality that head of state cannot hide behind their positions.
Charles Taylor will be held in custody until his final sentencing on 30th May.
Before that time, his defence team has the option of appealing the charges he was found guilty of. The case would then pass on to Appeals Chamber of the Special Court, whose decision is final.
If there is no appeal, Mr Taylor is likely to be given a prison sentence, which he would serve in the UK.
Charles Taylor has been remanded in custody until a first sentencing hearing on 16th May. The final sentence will be passed on 30th May.
Charles Taylor has been found guilty of aiding and abetting the crimes in Sierra Leone. The court did not find sufficient evidence that Taylor had ordered the crimes, although it ruled that he did have influence over the RUF rebels and that he provided material support.
The judge went through the crimes, which are as follows:
Acts of terrorism
Murder
Violence to life, health and physical or mental wellbeing of people - murder
Rape
Sexual slavery
Outrages upon personal dignity
Violence to life, health and physical or mental wellbeing of people - cruel treatment
Other inhumane acts
Conscripting or enlisting child soldiers
Enslavement

Pillage
Load more updates
Back to top