News Corp backs Murdoch
The News Corporation board of directors has issued unanimous statement of support for chairman Rupert Murdoch, after a report by MPs into phone hacking said he was "not a fit person" to run a major international company.
Sen. Jay Rockefeller, who is Chairman of the Senate Committee on Commerce, Science and Transportation, has requested for new information on News International after the Leveson Inquiry began to release large volumes of documents on the company's conduct.
Rockefeller, who has jurisdiction over media issues in the US, has raised questions about the extent of News Corp's phone hacking since last July when the allegations were reported in the US.
A US senator has sent a letter to Lord Justice Leveson asking if his inquiry has uncovered any new information that suggests News International has violated any US laws.
Advertisement
A source close to News Corp said the board "understood" the importance of the report by MPs that said CEO Rupert Murdoch was "not a fit person" to run the company and earlier "met to review its findings".
The report came out and the board understood its importance and met to review its findings.
Earlier, the media company released a statement saying they had "full confidence" in Mr Murdoch.
News Corporation have released a statement saying they have "full confidence" in their Chairman and CEO Rupert Murdoch after the media mogul was ruled "not a fit person" to run the company by MPs on the culture, media and sports committee.
The Board of Directors of News Corporation met today and announced its full confidence in Rupert Murdoch's fitness and support for his continuing to lead News Corporation into the future as its Chairman and CEO.

The Board based its vote of confidence on Rupert Murdoch's vision and leadership in building News Corporation, his ongoing performance as Chairman and CEO, and his demonstrated resolve to address the mistakes of the Company identified in the Select Committee's report.
– News Corporation statement
Rupert Murdoch leaves the News Corporation building in New York today: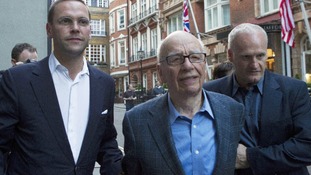 The actual, true story of today was that the Murdochs escaped relatively unscathed. Not that you'd know it from most of the reports.
Read the full story
Advertisement
I would also like to inform you today that the autonomous Management and Standards Committee, which was established by the Company to ensure full cooperation with all investigations, has completed its review of the Times and Sunday Times, assisted by outside counsel, Linklaters. The Management and Standards Committee has also completed its internal review into The Sun.

We found no evidence of illegal conduct other than a single incident reported months ago, which led to the discipline of the relevant employee.
– Rupert Murdoch
We certainly should have acted more quickly and aggressively to uncover wrongdoing. We deeply regret what took place and have taken our share of responsibility for not rectifying the situation sooner.

To that end, News Corporation continues to cooperate with all inquiries relating to voicemail interception and improper payments to public officials. Indeed, we have gone beyond what law enforcement authorities have asked of us, to ensure not only that we are incompliance with the law, but that we adhere to the highest ethical standards.
– Rupert Murdoch
In a letter, allegedly from Rupert Murdoch to Dow Jones employees, the News Corporation boss says: "I recognise that for all of us – myself in particular – it is difficult to read many of the report's findings.
"But we have done the most difficult part, which has been to take a long, hard and honest look at our past mistakes."
The full letter can be read here.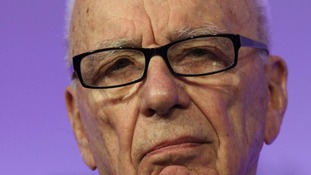 Rupert Murdoch has been accused of not being "a fit person" to run News Corporation.
Read the full story
Load more updates
Back to top