FA attacks Sun's 'Woy' headline
The FA has complained to The Sun about today's front page that mocks England boss Roy Hodgson's speech impediment, describing it as being "in poor taste and disrespectful." Over 100 complaints have been made to the Press Complaints Commission.
The Sun continues with defiant 'Wossy' front page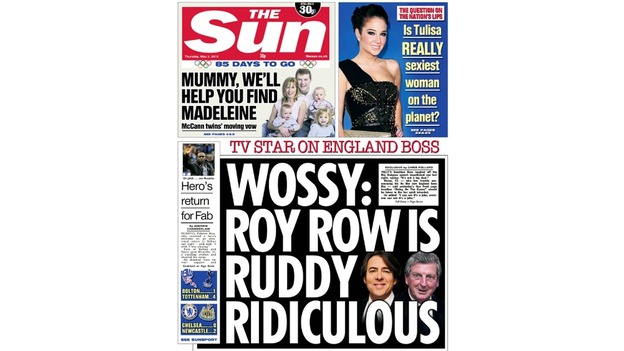 The Sun appears undeterred by criticisms of its front page yesterday, which referenced the speech impediment of new England manager Roy Hodgson.
The FA described it as "in poor taste and disrespectful" and over 100 complaints were made to the Press Complaints Commission.
Today's headline reads: "WOSSY: ROY ROW IS RUDDY RIDICULOUS".
Jonathan Ross asked about The Sun's Roy Hodgson headline
ITV1 chat show host Jonathan Ross - who suffers from a speech impediment like Roy Hodgson - tweeted that journalists from The Sun have asked him what he thought about their headline on the England manager.
Just had some guys from the Sun at my front door asking what I made of their Woy of the Wovers style front page. Life's too short....
From
@wossy
on Twitter:
Advertisement
Speech charity 'disappointed' with Sun front page
A charity which supports children suffering with speech, language and communication difficulties said they are "disappointed" with The Sun's front page today. I CAN described Roy Hodgson as "a high-achieving man, and a great role model for all young people with communication difficulties".
We know that children with communication difficulties are often at risk of bullying. Therefore it is disappointing to see that Roy Hodgson's speech has been singled out in the mainstream media for entertainment value.

For the 1.2 million children in the UK who suffer with long-term speech, language and communication difficulties, this does little to help their self-esteem, confidence and belief in their own abilities.
– I CAN Spokesperson
FA 'has received calls saying children with speech impediments get bullied'
The Daily Telegraph football correspondent Henry Winter has tweeted:
FA has received phone-calls today from #eng fans saying their children get bullied at school over speech impediments.
From
@henrywinter
on Twitter:
FA Chairman: Sun front page is 'in poor taste and disrespectful'
We are delighted at the media response to Roy's appointment but are disappointed with the headline in The Sun, which we consider is in poor taste and disrespectful.
– FA Chairman David Bernstein
FA: Sun front page is 'unacceptable'
The FA and the Press Complaints Commission (PCC) have today received a large number of objections relating to the front page headline in The Sun newspaper, regarding Roy Hodgson's manner of speech.

On this occasion, we will not be making an official complaint to the PCC but we have raised it with the newspaper and made it clear that their front page is unacceptable to us.
– Football Association
Advertisement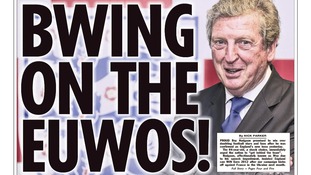 The Press Complaints Commission and FA have received 100 complaints over The Sun headline mocking the new England manager's speech.
Read the full story
Back to top