Coalition 'relaunched' in Essex
After disastrous results in the local elections David Cameron and Nick Clegg have appeared together to highlight the coalition's achievements during its first two years. Today's speeches have been billed as a "relaunch" of the coalition.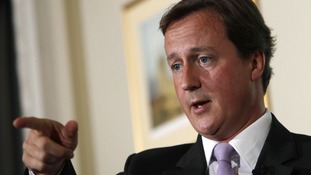 We should be able to discern some signs of what David Cameron "gets" in the Queen's Speech.
Read the full story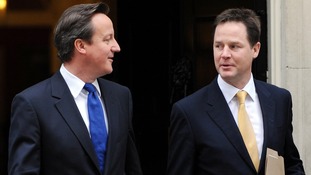 David Cameron insisted the coalition was "as important and necessary" now as it was two years ago.
Read the full story
Advertisement
Speaking at a factory in Essex David Cameron told workers: "I believe the need for that coalition, two parties working together to solve the problems we have in our country, is as important and necessary today as it was two years ago".
We are different parties, the Conservative Party and the Liberal Democrat party, and we don't always agree.

But I would argue in the last two years, the Government has done a lot of things that needed to be done. We have cut the deficit, we have made difficult decisions about cutting some areas of public spending, about having to increase some taxes, because we inherited a situation where our budget deficit was bigger than that in Greece.

Although we might have had different views, we put them aside, we cut the deficit for the good of the economy.
– David Cameron
David Cameron and Nick Clegg were cordial but not chummy. I thought they spoke as if they had not been in Government for two years.
Nick Clegg said: "We started off in this coalition with one simple mission in mind and that was to rescue, repair and reform the British economy."
Advertisement
Ed Miliband warned of a "crisis of politics" as he acknowledged that all politicians need to do more to win back people's trust.
Speaking in Harlow, Essex, where his party seized control in last week's council elections, he said he wanted to "reach out" to the more than two-thirds of voters who did not turn out to cast their ballot.
Pointing to figures showing that 71% of people in Harlow did not vote on Thursday, he said: "I want to reach out and understand why you don't trust any politicians, why you don't believe any of us can answer the questions that you are facing in your life."
The Labour leader admits he is not an avid watcher of the Essex based TV show, but goes on to describe Essex as a place 'of aspiration.'
At the Q&A in Essex I asked whether Ed Miliband has a favourite The Only Way Is Essex character.
"I'm not as avid a watcher as I should be" he admits.
I asked Ed Miliband if The Only Way is Austerity. He didn't really answer and says the government promised things would get better and they haven't. I will try again.
Load more updates
Back to top