Coalition 'relaunched' in Essex
After disastrous results in the local elections David Cameron and Nick Clegg have appeared together to highlight the coalition's achievements during its first two years. Today's speeches have been billed as a "relaunch" of the coalition.
The Labour leader has held a Q&A for journalists in Harlow as Clegg and Cameron relaunch their coalition.
In the first 10 minutes, Ed Miliband admitted Labour didn't do enough on housing and had too many NHS reorganisations. What will he say on the economy record?
He says the current Government promised change and things haven't got better and that the Government can't blame others or the Eurozone.
Advertisement
Labour leader Ed Miliband is paying a visit to one of the key local election battlegrounds where his party seized control.
Hosting a Q&A in Harlow in Essex he accused the coalition government of damaging the NHS and says there is currently a 'crisis in politics'.
Former Minister David Laws, who is now Nick Clegg's adviser, told BBC Radio 4 this morning that he thinks it is possible for the two parties to remain coherent and united and still keep their two identities.
You are always going to get in a coalition the people on the extreme edges of the parties, the right of the Conservative Party, the left of the Liberal Democrats, feeling uncomfortable about the process of coalition, the compromises that involves.

I think actually that process of letting each party breathe a bit is also important to giving coalitions the ability to last because if you have iron discipline, (under) which parts of parties cannot express themselves at all, that's not actually a stabilising force.
Nick Clegg's parliamentary aide Jo Swinson has said David Cameron and Nick Clegg's coalition partnership "is a marriage of convenience."
David Cameron and Nick Clegg announce their coalition in May 2010:
Today's so-called renewal of their "marriage vows" marks the start of a crucial week for the Government, with the announcement tomorrow in the Queen's Speech of the legislative programme for the new parliamentary session.
Advertisement
David Cameron is expected to tell tractor workers in Basildon:
I don't hide from the scale of that challenge - or from the message sent by voters in many places in last weeks elections. I'm listening. I'm leading. I get it.

There are no closed minds, no closed doors in Downing Street.
Nick Clegg is expected to say:
Two years in and building the new economy remains the Coalition's biggest challenge and while the deficit is part of that - it is only a means to an end. This government is galvanised around growth.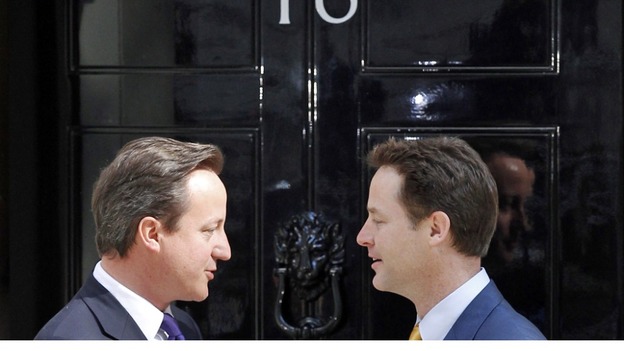 After disastrous results in the local elections David Cameron and Nick Clegg will appear together later today to relaunch the coalition. It is two years since the coalition agreement was signed and the two men announced their cooperation in the Rose Garden at Downing street
Load more updates
Back to top