Hunt under pressure again
Culture Secretary Jeremy Hunt is again under pressure after fresh claims emerged at the Leveson Inquiry about his relationship with News International.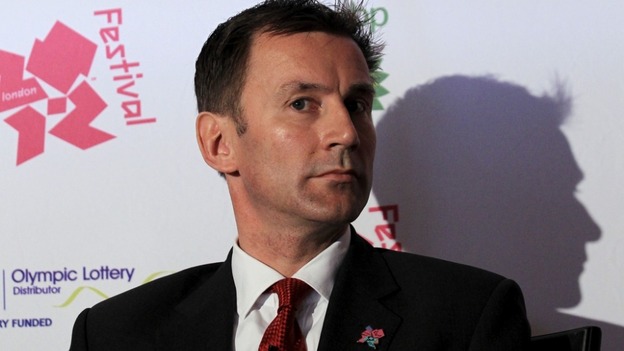 A spokeswoman for Jeremy Hunt said: "He is confident his evidence will vindicate the position that he has behaved with integrity on every issue.
"It has already been made clear that when Fred Michel claims to be speaking to Jeremy Hunt in emails, he is in fact referring to Adam Smith. On July 11, 2011 Jeremy Hunt wrote to Ofcom for further advice about the impact of phone hacking on the BSkyB bid."
People will be disgusted at the prospect of Jeremy Hunt and No. 10 colluding with News Corporation to avoid a public inquiry into phone hacking.

Jeremy Hunt was not on the side of victims and their families. Instead, he wanted it swept under the carpet because he was straining every sinew to support News Corporation's bid for BSkyB.
– Harriet Harman MP, Labour's Shadow Culture Secretary
Advertisement
Sources close to Jeremy Hunt: The Culture Secretary never asked for information on phone hacking. Fred Michel's email was not from a conversation with Mr Hunt.
Rebekah Brooks finishes. Bit more pressure on Jeremy Hunt but Prime Minister might feel being mocked on 'lol' is not as bad as any serious emails / texts to her.
Former News International chief executive Rebekah Brooks has finished giving evidence to the Leveson Inquiry.
Rebekah Brooks has hit back, she calls some of Robert Jay's question - such as when he asked if Rupert Murdoch bought her a suit - "trivial".
Advertisement
Rebekah Brooks said a lot of the "gossipy" questions she has been asked at the Leveson Inquiry today are "gender based".
She said "had she been a grumpy old man on Fleet Street" she would not have been asked about issues such as swimming with Rupert Murdoch.
Rebekah Brooks denied that vigilantism was a foreseeable consequence of her publishing pictures of sex offenders as part of the Sarah's law campaign.
She said nobody could have predicted that the public would mistake a paediatrician for a paedophile.
Rebekah Brooks said it was right to publish pictures of sex offenders in the News of the World as part of the Sarah's law campaign.
Mrs Brooks added she disagreed at the time with a Constable who said the campaign was "grossly irresponsible journalism".
Rebekah Brooks said she did not tell Ed Balls to sack Sharon Shoesmith, who was the head of Haringey social services when Baby P was killed, but did say The Sun called for her to resign.
Load more updates
Back to top