Hunt under pressure again
Culture Secretary Jeremy Hunt is again under pressure after fresh claims emerged at the Leveson Inquiry about his relationship with News International.
The key quote in Fred Michel's hacking email about the Culture Secretary is: "Jeremy Hunt ... asked me to advise him privately in the coming weeks and guide his and Number 10's positioning".
Rebekah Brooks said The Sun would not have run the story on Gordon Brown's son having cystic fibrosis if they had asked her not to do so.
Advertisement
Rebekah Brooks said it was a "terrible accusation" from Gordon Brown to claim The Sun had hacked into his son's medical record.
Brooks added that the source gained the story from a "third party".
Lord Leveson said it was not "unreasonable" for Gordon Brown to think their son's medical records had been hacked.
Rebekah Brooks said she was "absolutely satisfied" the information did not come from hacking.
Downing Street sources say the new email is in the same category as others (ie not from Jeremy Hunt himself) and denies that Number 10 are seeking guidance from News International.
Rebekah Brooks said The Sun did not hack into Gordon Brown's family health records to reveal his son had cystic fibrosis.
She added that a "shattered father" was their source and that he had got the information from the fact his son also had the disorder and through work with a particular charity.
Advertisement
Rebekah Brooks has denied she was the "go-between" for James and Rupert Murdoch and that their relationship was not increasingly fraught.
She added that the Murdochs are "like any normal family, they have dynamics that change".
One email survives. From Fred Michel telling Rebekah Brooks what Jeremy Hunt was going to tell the Commons on BSkyB. Was news to me and surprising she says.
Email from Fred Michel says he has been asked by Mr Hunt to guide his and Number 10's position. Potentially damaging for Mr Hun.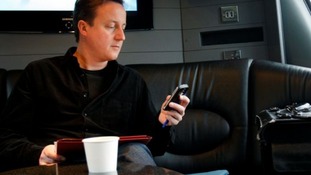 LOLZ. David Cameron doesn't know how to speak text. Here is our guide to texting lingo for the Prime Minister.
Read the full story
Rebekah Brooks said she did not know the personal beliefs of all the Cabinet members on the BSkyB bid, including Vince Cable's.
Load more updates
Back to top