Man City set for bus parade
Manchester City will hold an open-top bus parade through Manchester city centre later to mark the club's first league title win in 44 years.
A bus carrying the team will depart from Albert Square at 6.30pm on a 1.8-mile route
by Rags Martel: ITV News sports reporter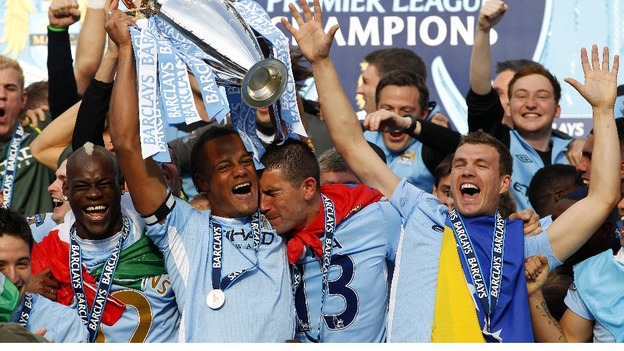 After 90minutes of football I saw streams of City fans leaving the stadium. Many wereupset. Some in tears. Others dejected. Many angry. They couldn't bear to watch their team suffer yet again.
But what those fans missed in injury time will go down in Manchester City folklore as the greatest five minutes in their history.
As the winners podium was being assembled in Sunderland for United to reclaim their prize, two quick goals at the Etihad ensured one of the greatest comebacks in sport.
In a matter of seconds everything changed. City fans, who moments ealier had left the ground in despair, were suddenly dancing with pure delight. Again, I saw supporter weeping. But this time they were tears of joy.
Manchester City manager Roberto Mancini delights in his team's win:
Advertisement
Crowds outside the Etihad stadium were ecstatic after the 3-2 win against Queens Park Rangers awarded them the Premiership crown for the first time in 44 years.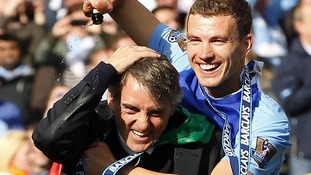 Manchester City score twice in stoppage time to be crowned champion for the first time in 44 years by beating QPR to win the Premier League
Read the full story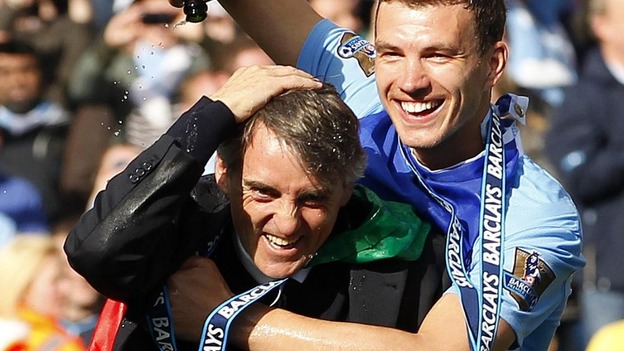 Manchester United manager Sir Alex Ferguson congratulated Manchester City on their achievement.
He told BBC Sport:
Nobody expected that. Everybody expected City to win, but they did it against 10 men for half an hour and with five extra minutes to help them.

But I congratulate City on winning the league. Anybody who wins it deserves it, because it's a long haul.

At the end of our game our players didn't actually know the results. Now, they're really disappointed, I'm glad to say.

There's no other way they should be. They conducted themselves brilliantly today. Their performance level was good. I'm pleased at our performance this season. Eighty-nine points would win most leagues. It wasn't our turn today.
Advertisement
Jubilant Manchester City fans are in seventh heaven tonight after their team came back with two goals in stoppage time to clinch their first top-flight title in 44 years.
They topped the table ahead of archrivals Manchester United, who won 1-0 at Sunderland.
You can see more on reaction to both games at ITV's Granada website.
A late goal by Sergio Aguero secured the victory. On Twitter, It's being hailed as one of the most exciting Premiership deciders.
OMG. Aguero does it. City wins. Speechless. Wow. Fans are on the pitch. #premiership
This has got to be the greatest english premiership season of all time. Thank you man city and man u for the entertainment
Gotta be the best premiership season I've witnessed.
Manchester City go top scoring late twice in a remarkable game against QPR.
Remarkable goal 90 seconds from the end.
Load more updates
Back to top