Alastair Campbell at Leveson
Tony Blair's former No 10 communications chief Alastair Campbell has finished giving evidence at the Leveson Inquiry. The former head of the Civil Service, Gus O'Donnell also appeared .
Alastair Campbell told the Leveson Inquiry today that former Prime Minister Tony Blair had only spoken six times between 2002 and 2005 with News International chief executive Rupert Murdoch in the run-up to the Iraq war.
However, he pointed out that Mr Murdoch was a "very significant figure in the media landscape":
Rupert Murdoch, one of the things that makes him different to some of the other media owners, some of whom you saw last week, is that he is a news man. He is interested in what is going on in the world.
I think it is a combination of Rupert Murdoch trying to find out what is going on and also probably saying, 'You know, we're going to support you on this.

It doesn't strike me as that odd, not least because by then I think it is fair to say Tony Blair had very few strong supporters in the media left.
The Speaker of the House of Commons has effectively ordered Jeremy Hunt to face MPs' question about his dealings with News Corporation.
Harriet Harman, the Labour deputy leader and shadow culture secretary prompted the Speaker's intervention.
She had asked the Speaker whether it was acceptable for a minister to refuse to answer parliamentary questions on the grounds that he would be giving evidence in due course to an inquiry.
Hunt has refused to answer questions about what he knew about the contacts between his special adviser and News Corp, saying he will address this in his evidence to Leveson.
I do believe this House should be pre-eminent. It should be treated by whomsoever is in Government with courtesy and consideration.

It should be regarded as a priority and a matter of honour to keep the House informed and to facilitate the House in the discharge of its scrutiny function.

I do not dissent from anything you have said.
– John Bercow, Speaker of the House of Commons
Advertisement
Tony Blair's former communications chief Alastair Campbell has told the Leveson Inquiry that he was "very friendly" with the News of the World editor Rebekah Brooks. "I really liked her, but friendship is overstating it", said Mr Campbell.
However, he revealed today that he spoke Ms Brooks on average once or twice a week.
Alastair Campbell has revealed why the Labour party decided to court The Sun rather than other newspapers, when he was appointed as Tony Blair's director of communications.
Well it probably fell into the category of the only one that might... shift position.

I couldn't have ever imagined the Daily Mail. So our approach... was just to kind of stop them being quite so vile.

Our approach with papers like the Express would have been to engage with them, but I would never have expected the Express to come out for the Labour party.

And the broadsheets were in a slightly different space...So the Sun, in a sense, was the only one that was in this really odd space.
Although we set ourselves that objective, I think if you had asked me in 1994 did I think the Sun would back us in 1997, I would probably have said no.
Lord O'Donnell has defended only clearing Andy Coulson to a lesser level of security when he took over as Number Ten's director of communications.
He told the Leveson Inquiry that deeper vetting would have been unlikely to reveal significant information about his alleged involvement in phone hacking.
Tony Blair's former press advisor Alastair Campbell has been appearing for a second time before the Leveson Inquiry.
Robert Jay QC made the ex spin doctor blush by reading extracts from Mr Blair's autobiography, where he described the difference in style between Mr Campbell and Peter Mandelson.
Advertisement
Former cabinet secretary Lord O'Donnell has urged the Leveson Inquiry to issue guidelines to help opposition parties deal with the press.
He said: "I think you would want to put it to the leaders of all the parties, 'Here is a set of rules that we think opposition parties should abide by'".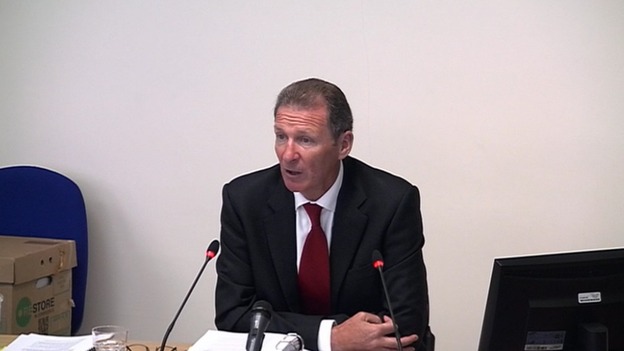 Former cabinet secretary Lord O'Donnell has told the Leveson Inquiry that David Cameron's links with the media were too close.
He admitted that he had not always been successful in ensuring ministers maintained a distance from the press.
I think the Prime Minister himself... has said that he felt his relationships had got too close, and I agree with that.
News International's barrister Rhodri Davies accuses Robert Jay, counsel for the Leveson Inquiry, of trying to make out that The Sun has "sinister" motives for its decisions to back certain politicians.
News International has hit out at allegations made about Rupert Murdoch's back-room dealings with politicians.
Robert Jay QC, counsel for the Leveson Inquiry, was accused of "headline grabbing" by suggesting the media mogul was suffering "selective amnesia" about his talks with Margaret Thatcher.
The company's barrister Rhodri Davies QC insisted there was nothing sinister going on.
He said: "Mr Murdoch has nothing to lie about. The documents tell the story."
Load more updates
Back to top