Brooks 'baffled' by charges
The former News International chief executive Rebekah Brooks and her husband Charlie have criticised the decision by prosecutors to charge them with perverting the course of justice over the News of the World phone hacking scandal.
Rupert Murdoch's British newspaper group has spent more than £53 million on its own investigation of the phone-hacking and illegal payments scandal, figures reveal.
Most of the £53.2 million figure has been accrued through legal and professional fees.
Accounts for NI Group Limited - which incorporates the Sun, the Times and the Sunday Times - show that the internal management and standards committee (MSC) has racked up the cost since last July, when it was launched.
There is absolutely no chance of Rebekah and Charlie Brooks 'going away quietly'. Mrs Brooks did say to me a while ago "you live by the sword, you die by the sword".
I think she understands that a lot of people in the country will not be very sympathetic given her past as a major newspaper editor.
Having said that, I think the ante has been 'upped' significantly tonight. What isn't in doubt is that this is a very long investigation, sucking in an enormous amount of police officers that is costing a very great deal of money.
I think there is no doubt there is pressure on the police to make these convictions stick. If the couple are cleared, there is going to be a reckoning.
Advertisement
Tom Mockridge, who succeeded Rebekah Brooks as News International chief executive has told staff in an email it was "important that proper due process takes its course and we must not prejudge the outcome" of the cases against Hanna and Edwards.
Following the announcement of the charges, he wrote:
I appreciate this is tough news, particularly if you worked closely with those charged today.

This is a difficult period for all of us at News International.

I am deeply grateful for your continued professionalism and commitment as we deal with these issues."
Five other people suspected of aiding Rebekah Brooks in the phone-hacking scandal face single counts of conspiring to pervert the course of justice.
Charlie Brooks has said that his wife Rebekah has been the subject of 'witch-hunt'. He said he thought he and others are being used as "scape-goats to ratchet up the pressure on my wife."
Rebekah Brooks has said she is 'baffled' by the decision to charge her. She has also expressed her anger that, "those closest to me have been dragged in to this unfairly."
Advertisement
The husband of Rebekah Brooks, Charlie spoke on behalf of himself and his wife following the Crown Prosectuion decision to charge Mrs Brooks with perverting the course of justice:
I feel today is an attempt to use me and others as scapegoats, the effect of which will be to ratchet up pressure on my wife, who I believe is also the subject of a witch hunt. It is no surprise to me the pressure is on to bring prosecutions however weak they may be.
I have no doubt that the lack of evidence against me will be borne out in court but I have grave doubts that my wife can ever get a fair trial, given the huge volume of biased commentary which she has been subjected to.

We will fight this in court.
Rebekah Brooks and her husband Charlie have released a statement after being charged with conspiracy to pervert the course of justice during the phone-hacking scandal:
Whilst I have always respected the criminal justice system, I have to question today whether this decision was made on a proper impartial assessment of the evidence.

I understand and know there needs to be a proper and thorough investigation and I am baffled by the decision to charge me today.

I cannot express my anger enough, that those closest to me have been dragged unfairly into this.

One day the details of this case will emerge and people will see today as nothing more than an expensive sideshow and a waste of public money as a result of an unjust and weak decision.
– Rebekah Brooks
Alison Levitt QC, principal legal advisor to the Director of Public Prosecutions, said there was "sufficient evidence for there to be a realistic prospect of conviction", in regards to charges against Rebekah Brooks and five other suspects.
Charges against one suspect, a security consultant, were dropped as part of the review of evidence by lawyers since detectives handed over the file on March 27.
But Miss Levitt said a prosecution "is required in the public interest in relation to each of the other six".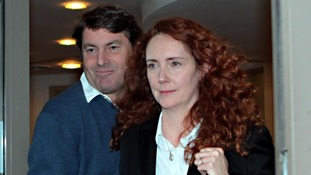 Rebekah Brooks angrily attacked police and prosecutors tonight as she said she was "baffled" to face charges.
Read the full story
Load more updates
Back to top