Funeral of Lockerbie bomber
The funeral of Lockerbie bomber Abdelbaset Ali al-Megrahi has taken place at Tripoli's main cemetery. He died yesterday after a long battle with cancer.
The burial took place today of the convicted Lockerbie bomber Abdelbasset al-Megrahi - but the truth over whether anyone else was involved might not, after all, have been buried with him.
The Lord Advocate in Scotland said today he is confident more people will be charged.
The death of Megrahi has reignited the debate as to whether he should have been allowed back to Libya to die three years ago.
Kenny MacAskill, the Scottish Secretary for Justice, has defended that decision:
Advertisement
Around a hundred family members and mourners, including a few Gaddafi-era officials, attended the funeral of Lockerbie bomber Abdelbaset al-Megrahi. He died yesterday in his home surrounded by his family.
His funeral has not made any of the three main television channels in Libya so far: many within the country are focused on the upcoming elections after overthrowing Muammar Gaddafi last year.
US Senator Charles Schumer said it was a "grave injustice" that Lockerbie bomber Abdelbaset Ali al-Megrahi was allowed to die at home, surrounded by his family and friends.
The New York state senator said the Lockerbie bomb attack that killed 270 people was one of the "greatest injustices that has happened in the last hundred years"
The plane crash in Lockerbie, Scotland, took a heavy toll on New York, with 35 students from Syracuse University and two from the State University of New York at Oswego among the 270 victims.
The only man convicted of the 1988 Lockerbie bombing Abdelbaset al-Megrahi, has been buried with little fanfare near the Libyan capital, with just under 100 family members and passers-by in attendance.
Dumfries and Galloway police say their Lockerbie investigation will continue in order to bring justice to the others involved. I think it's fair to say people in Lockerbie are not spending much time reflecting on the death of al-Megrahi, most just want to move on.
The Scottish Criminal Cases Review Commision (SCCRC) confirmed that al-Megrahi's family or 'an interested party' can apply to have his conviction reviewed again. However SCCRC will not accept a case where the only issues raised are the same as matters it rejected in the previous review.
If a new application for a review is made SCCRC would consider reasons for the abandonment of al-Megrahi's 2nd appeal before it would accept the case.
Advertisement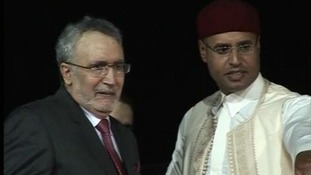 Gaddafi is dead, his regime swept away and his man, Megrahi will be buried unheralded.
Read the full story
Bert Ammerman, whose brother died in the Lockerbie bomb said the death of al-Megrahi was no reason to stop investigating who was behind the atrocity. He called on President Obama reopen the investigation into the attack that killed 270 people.
This morning, Deputy First Minister Nicola Sturgeon defended the Scottish Government's decision to release Megrahi from prison in 2009:
Compassion is a long-standing principle in the Scottish criminal justice system. (Justice Secretary) Kenny MacAskill took the decision to release Megrahi on compassionate grounds because he was dying of terminal prostate cancer. One of the things that I hope will happen as a result of Megrahi's death is that some of the wilder conspiracy theories surrounding his release will now be laid to rest. He did have terminal prostate cancer and he died of terminal prostate cancer.
– Speaking on BBC Radio Scotland
Labour leader Ed Miliband said he believed the Prime Minister's response to calls for a fresh inquiry into the conviction of al-Megrahi was correct. He told ITV Daybreak:
I am obviously very sympathetic to the families who have gone through this terrible grief and who don't feel that they have got proper answers.

I think the Prime Minister is right though, that unless there is new evidence that comes forward - we had a whole trial, it was a long and painstaking trial which took place, it was done in a proper court of law
– Labour leader Ed Miliband, on ITV Daybreak
Load more updates
Back to top