Star-studded Jubilee concert
The Prince of Wales has paid an emotional tribute to the Queen at a concert outside Buckingham Palace to celebrate her Diamond Jubilee. A host of musical stars took part including Gary Barlow, Sir Paul McCartney, Sir Elton John and Tom Jones.
Sir John Major: 'An absolutely magnificent national party'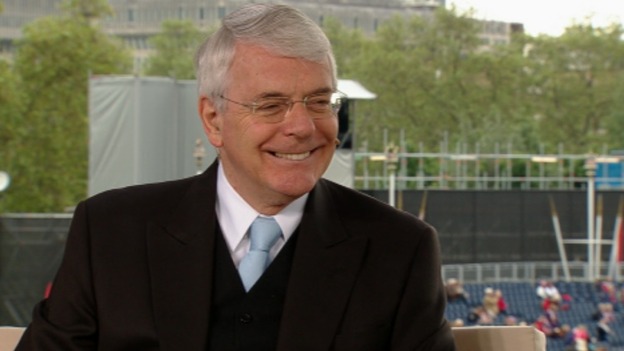 Former Prime Minister Sir John Major has told ITV: "It has been an absolutely magnificent national party and I think it is quite extraordinary. Last night in The Mall was just an unforgettable sight, tens and tens of thousands of people there."
The Queen meets stars backstage at the Diamond Jubilee Concert
After the Diamond Jubilee Concert, Kylie Minogue and Gary Barlow accompanied the Queen on a backstage tour as she met some of the stars that performed or hosted at the event.
They included Peter Kay, Ed Sheeran, Will.i.am, Cheryl Cole and Grace Jones among others.
Advertisement
Prince Charles kisses his mother's hand after Jubilee concert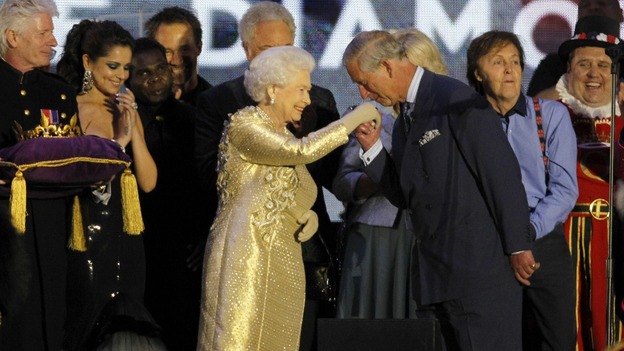 Prince Charles pays heartfelt tribute to 'Her Majesty....Mummy'
The Prince of Wales paid a heartfelt tribute to the Queen after the Diamond Jubilee concert and also remembered the Duke of Edinburgh ill in hospital.
The prince told hundreds of thousands of people who had gathered to watch the star-studded event that they were "celebrating the life and service of a very special person".
But he also spoke of a disappointing element to the evening:
"The only sad thing about this evening is that my father cannot be her with us because unfortunately he's been taken unwell."
Firework finale caps off a night of celebration
The Queen lighting the final beacon was the signal for a finale to remember. The sky above Buckingham Palace was lit up with fireworks. The Union Jack was projected onto the palace facade.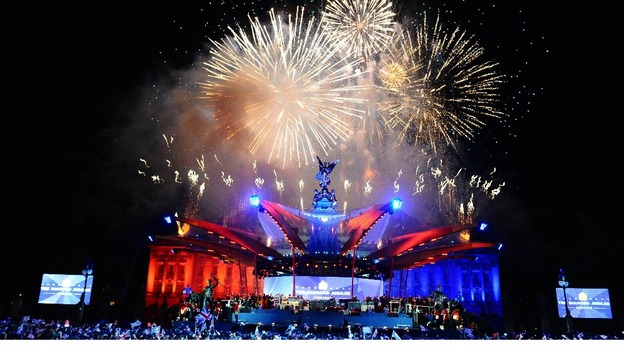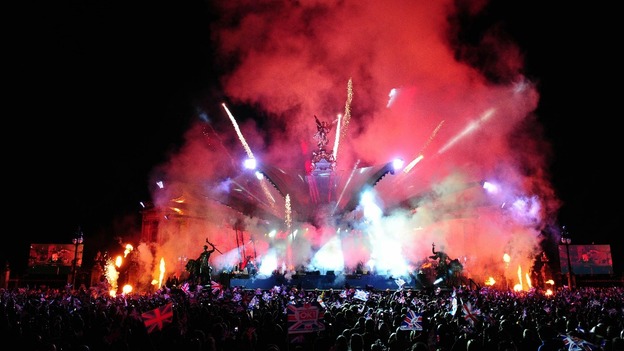 Confusion as concert stars wish Queen happy birthday on wrong day
A spokeswoman at Buckingham Palace confirmed the Queen's official birthday is on June 16th this year.
There was some confusion as Diamond Jubilee concert acts Grace Jones, Stevie Wonder and Will.i.am all used their performances this evening to wish the Queen a happy birthday.
'Happy birthday our Queen!' Announces Grace Jones as she leaves stage. Er.... Think she might have missed point! #jubilee #grace
From
@Georginaitv
on Twitter:
Happy Birthday Your Highness" Not one word of that right Will! Lol
From
@Schofe
on Twitter:
Advertisement
Prince Charles' speech to Her Majesty
Prince Charles is giving a speech to his mother to mark the end of the Diamond Jubilee concert:
Your Majesty, I'm sure you want me to thank on your behalf all the wonderful people who made tonight possible. The performers, the comedians who made those jolly good jokes ... and above all the technicians, all 600 of them.
The only sad thing about this evening is that my father couldn't be here ... but ladies and gentlemen, if we shout loud enough he might just hear us in hospital.
Sir Paul McCartney closes Jubilee concert
Sir McCartney was the final act of the night. Like many of the acts before him, he chose a medley of his past hits. They were: Magical Mystery Tour, All My Loving, Let It Be, Live and Let Die and Ob-La-Do-Ob-La-Da. For the last song all of the other performers flooded onto the stage.
Royals-eye view of Buckingham Palace light show
Rugby player Mike Tindall, who is married to Zara Phillips, eldest granddaughter of the Queen, has tweeted a photo of his view of Buckingham Palace from the Royal Box.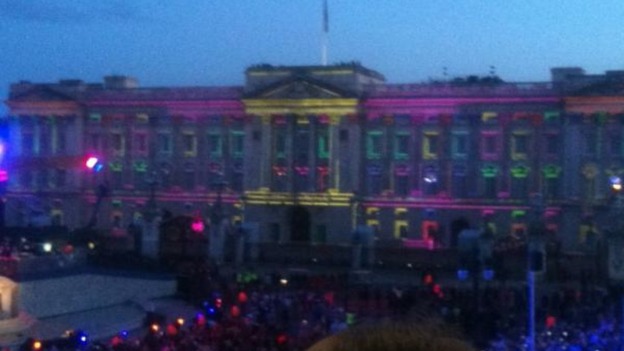 Madness perform 'Our House' on roof of Buckingham Palace
80s ska group Madness is playing live on the roof of Buckingham Palace. They chose to perform 'Our House'.
They changed the last lyric from "in the middle of our street" to "in the middle of one's street".
Load more updates
Back to top