Italy earthquake kills 16
An earthquake in northern Italy has killed at least 16 people, damaging buildings and spreading panic among thousands of residents still living in tents after a tremor shook the region just over a week ago, destroying their homes.
Thousands of people are still sleeping tents following an earlier earthquake in the Modena province of northern Italy.
A video on the website of the Italian newspaper La Repubblica shows residents of Finale Emilia emerging from their tents during the second quake.
At least one person has been killed and four are wounded in the latest earthquake to hit northern Italy, according to the Italian broadcaster RAI News.
"There are victims ... The situation is very serious, some people are stuck under the rubble," Alberto Silvestri, the mayor of the San Felice sul Panaro told Italian television channel SkyTG24.
Advertisement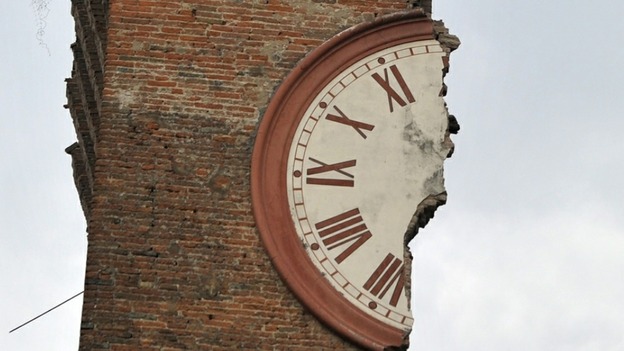 The epicentre of today's earthquake is believed to be Finale Emilia in northern Italy - the town that was badly damaged in an earlier tremor on May 20th.
Seven people were killed in that earthquake and dozens buildings, including the historic bell tower pictured above, were damaged.
An earthquake shook northern Italy today, after a tremor struck the region earlier this month killing seven people and destroying hundreds of buildings.
The quake struck 25 miles north of Bologna and 37 miles east of Parma at a depth of six miles according to the US Geological Survey. It gave a magnitude of 5.8.
Load more updates
Back to top