Osborne criticises Spain bailout
George Osborne has said the failure of the Spanish bank bailout is "depressing" as the banks had to be directly recapitalised into to convince the markets of its credibility. Spain's borrowing costs have hit the highest level for 13 years.
Hong Kong shares are set to jump 2.6 percent this morning following Chinese economic data released at the weekend that was not as bad as some had feared, as well as a bailout plan for Spain's banks, raising the appetite for risky assets.
The Hang Seng index was set to open 476.5 points higher at 18,978.88. The China Enteprises index of top locally listed firms was indicated to open up 2.7 percent.
Risk assets jumped this morning after euro zone finance ministers agreed on loans to help Spain's battered banks, easing fears Madrid's banking woes could escalate into a bankruptcy crisis and compound the currency bloc's troubles with Greece.
The euro jumped 1 percent to $1.2648, its highest since May 23, and the Australian dollar, closely linked to investors' risk appetite, gained about 0.9 percent to $1.0005 , its highest since May 15.
Advertisement
Spain's 100bn (£81bn) bank bail-out could backfire on Madrid by destabilising public finances and hampering the country's access to capital markets, according to the Telegraph.
Spanish banks are not a danger for the stability of the euro and they will receive enough funds for recapitalisation, German Finance Minister Wolfgang Schaeuble said.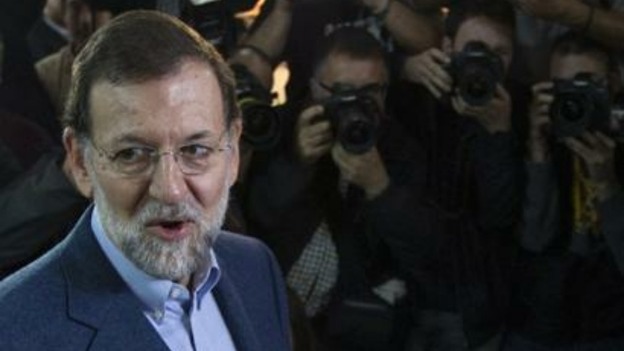 Spain's deep economic misery will get worse this year despite the country's request for a European financial lifeline of up to 100 billion euros (£80 billion) to save its banks, Spanish Prime Minister Mariano Rajoy said.
Spain will stay stuck in its second recession in three years, and more Spaniards will lose their jobs in a country where one in every four are already unemployed, Rajoy said a day after the country became the fourth and largest of the 17 countries that use the common currency to request a bailout.
The Group of Seven developed nations has welcomed the euro zone's plan to recapitalize Spanish banks, saying it marked an important step toward more fiscal integration in the region.
G7 ministers welcome Spain's plan to recapitalize its banking system and the Eurogroup's announcement of support for Spain's financial restructuring authority.These steps represent important progress as the euro area moves forward on greater financial and fiscal union to reinforce monetary union.
– G7 statement
Advertisement
Christine Lagarde, managing director of the International Monetary Fund (IMF), says her organisation stands ready to support the implementation and monitoring of the financial assistance for Spain's banks.
The willingness of Spain's Euro Area partners to financially support the Fund for Orderly Bank Restructuring (FROB) with up to EUR 100 billion is a crucial step for the success of the Spanish authorities' strategy.

This scale of proposed financing, which is consistent with the capital needs identified in the FSAP, gives assurance that the financing needs of Spain's banking system will be fully met.
– Christine Lagarde
The European Commission has welcomed Spain's request for aid for its banks, made to the euro zone's finance ministers on this evening, and said it was ready to proceed "swiftly" with necessary assessments and propose appropriate conditions on the sector.
European Commission President Jose Manuel Barroso and Economic and Monetary Affairs Commissioner Olli Rehn said in a statement:
We welcome today's communication by Spain of its intention to request the support of the euro area ... and the Eurogroup's positive response to this.

With this thorough restructuring of the banking sector ... we are certain that Spain can gradually regain the confidence of investors and market participants.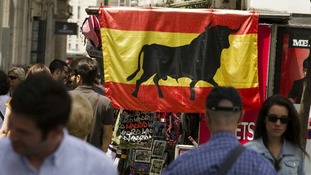 Spain has got at least part of its way - a bailout, of an unspecified figure so far, of cash from the rest of the EU.
Read the full story
The Eurozone has agreed to loan Spain up to 100 billion Euros for its banks, according to a Eurogroup statement.
Financial assistance to Spain would be provided by theEuropean Financial Stability Facility for the recapitalisation of its financial institutions.
The move is designed to halt a run on the country's banks.
Load more updates
Back to top