Major: Murdoch's EU demand
Sir John Major has told the Leveson Inquiry that Rupert Murdoch privately warned him in 1997 to change his policy on Europe or his papers would not support him. This appears to contradict Mr Murdoch's claim that he had never tried to influence PMs.
Today's five files bring to12 the number of files relating to Scotland Yard's phone-hacking inquiry that have been sent to prosecutors.
The CPS has launched prosecutions relating to just one of the files so far - including former News International chief executive Rebekah Brooks and her racehorse trainer husband Charlie.
Two other files, one involving Guardian journalist Amelia Hill and one relating to former News of the World chief reporter Neville Thurlbeck, have been dropped.
Brown's aides say they are releasing sworn statements by people who heard the Murdoch call and testify it was not threatening.
So when he said "the conversation did not take place," I guess he means the call happened, but not in the way Murdoch says it did.
It sounds like we are in the land of different interpretations here...
Advertisement
Gordon and Sarah were bullied and I'm afraid my old paper behaved awfully in his last year or so. It was brutal stuff.
The Chancellor has left the Royal Courts of Justice in London after completing his evidence at the Leveson Inquiry.
So Osborne and Gove have hinted to Leveson they don't want press regulation. Could be an interesting face-off.
These discussions are by far the most significant, because they touch on whether all of this is actually going to change anything.
Osborne is using the word 'sir' a lot, but seems to be saying pretty clearly he isn't going to let press regulation fly. Interesting.
George Osborne must have prepared for hours. He has generally swerved trouble. But he seems to be coming down firmly against press regulation.
Advertisement
George Osborne tells the Leveson Inquiry he remains a friend of Andy Coulson but "sadly" hasn't been able to speak to him for a year.
Osborne tells the Leveson Inquiry he asked Andy Coulson whether there was some, as yet, undisclosed revelations in phone hacking at the News of the World.
He said Coulson replied "no".
Quizzed at the Leveson Inquiry about the appointment of Andy Coulson, the former editor of the News of the World, as Cameron's chief spin doctor, Osborne says Coulson "had experience and personality to do the job."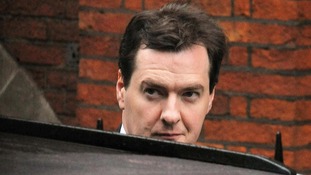 George Osborne is quizzed on News Corporation's take-over of BSkyB. But the questions on Andy Coulson's appointment are still to come.
Read the full story
Load more updates
Back to top