Euro 2012 championships
All the latest news and updates from the Euro 2012 championships in Poland and the Ukraine
UEFA has charged the Spanish Football Federation (RFEF) and Russian Football Union (RFS) for racist behaviour and racist chanting by their national teams' fans during Euro 2012 matches.
European soccer's governing body said:
UEFA has opened disciplinary proceedings against the Royal Spanish Football Federation (RFEF) for the improper conduct of their supporters (racist behaviour, racist chanting) at the UEFA Euro 2012 Group C match against Italy in Gdansk on Sunday 10 June.
UEFA added in a statement:
Disciplinary proceedings have also been opened against the Russian Football Union (RFS) for the improper conduct of their supporters (racist behaviour, racist chanting) at the UEFA Euro 2012 Group A match against the Czech Republic in Wroclaw on Friday 8 June.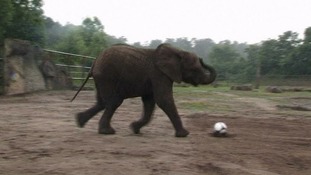 There's been a psychic octopus, pig and ferret. Now Germany's unofficial oracle, Nelly the elephant, is predicting a semi-final win.
Read the full story
Advertisement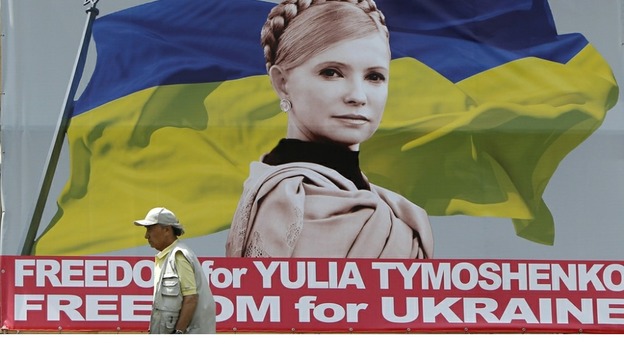 A Ukrainian court has adjourned the high-profile tax evasion trial of former prime minister Yulia Tymoshenko until mid-July, a move that will spare Kiev further negative publicity during the Euro 2012 football tournament.
Western outrage over Tymoshenko's prosecution - which she says is a politically-motivated witch hunt - has already prompted some European politicians to boycott matches at the football championship, which Ukraine is co-hosting with Poland.
In a hearing in the Kharkiv, a judge adjourned further hearings into the tax evasion case until July 10th at the request of state prosecutors, ordering a medical examination of Tymoshenko, 51, in order to establish whether she is fit to attend her own trial.
Tymoshenko denies wrongdoing.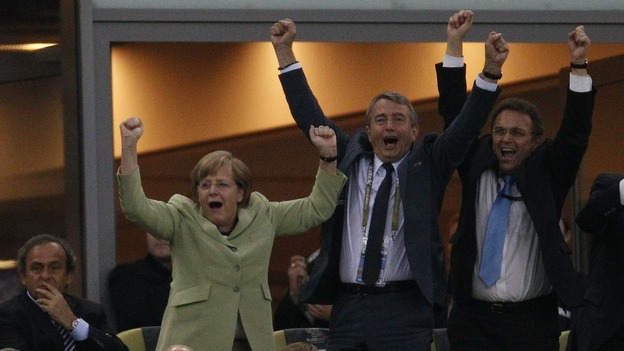 Germany 4 - 2 Greece
Germany became the second team to reach the semi-finals of Euro 2012 with a 4-2 victory over Greece.
They face England or Italy in the next round.
See match highlights from ITV Sport.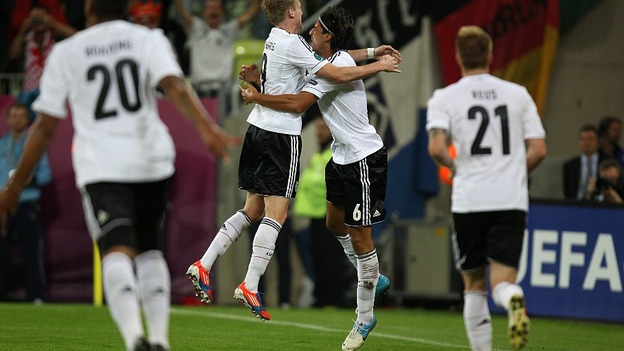 Germany's Euro 2012 quarterfinal against Greece is underway in Gdansk. Chancellor Merkel has made it across to Poland from the mini-summit in Rome earlier today.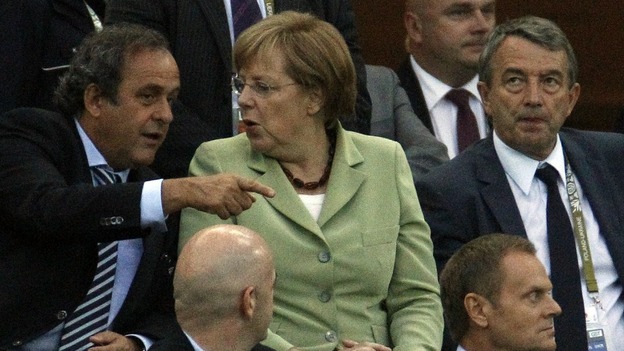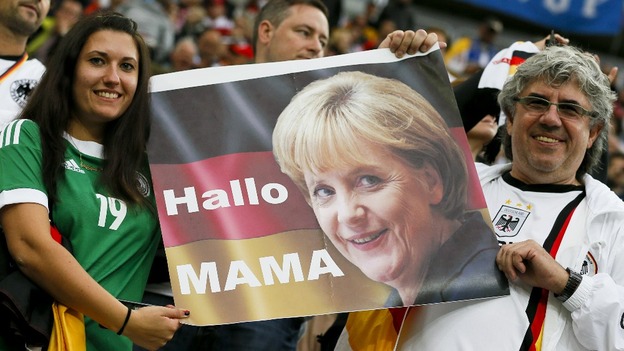 Comedian Ricky Gervais says he will donate £1000 to a children's hospital after BBC Sport presenter Gary Lineker went through with a dare put to him on Twitter during Portugal's Euro 2012 victory over the Czech Republic:
"@garylineker:" I am watching you on my TV. I dare you to use the phrase "it was a game of two halves". I would enjoy that.
@rickygervais I will suffer the abuse that will follow my uttering of the cliché, just because it's you.
"@garylineker:" Hahaha. You did it! You are a man of honour. I will donate £1000 to Great Ormond Street Hospital. The boy done good. Cheers
Advertisement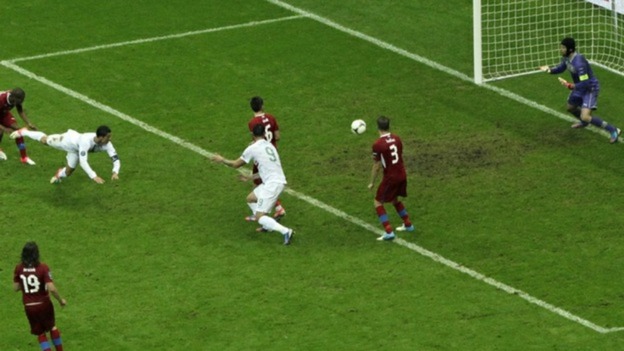 Portugal 1 - 0 Czech Republic
A headed goal from Cristiano Ronaldo saw Portugal beat the Czech Republic in Warsaw.
They face Spain or France in the semifinal.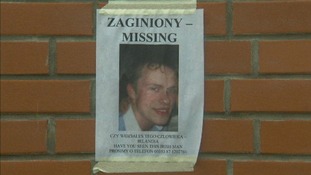 Polish police say they have recovered the body of a young Irish football fan whose disappearance over the weekend sparked a massive search.
Read the full story
Manchester City captain Vincent Kompany has criticised Uefa after they fined Nicklas Bendtner 100,000 euros for showing his sponsored pants but only 80,000 euros for racist chanting from Croatia fans.
Racist chants 80k fine. Commercial stunt 100k fine + 1 match ban... UEFA might need to review their order of priorities, don't you think?
Surely if you were a sponsor, you would consider racism as a more dangerous association than the dammage caused by commercial opportunism?
After the Croatian football federation were fined 80,000 euros (just over £64,500) for their fans racially abusing Mario Balotelli during their match against Italy at Euro 2012, we take a look at some previous fines handed out by Uefa.
Nicklas Bendtner was fined 100,000 euros (just over £80,000) and banned for one match for showing his Paddy Power sponsored pants during a match for Denmark.
The Serbian FA were fined £16,500 for racist chanting from their fans during an under-21 game against England in 2007.
The Russian football association was fined 120,000 euros (nearly £97,000) and handed a suspended six point deduction for the Euro 2016 qualifiers for fan violence before and after the Poland game at Euro 2012.
Monkey chants were directed at England's black players during a match against Spain in 2004. The Spanish FA were fined £45,000.
Load more updates
Back to top