Russia fined over fan violence
The Russian football association has been fined 120,000 euro (around £97,000) by UEFA after the violence yesterday ahead of its match with Poland in Warsaw. More than 100 people were arrested after fans clashed with each other and riot police.
Russian President Vladimir Putin has expressed concern over violence involving Russian and Polish football fans in Warsaw.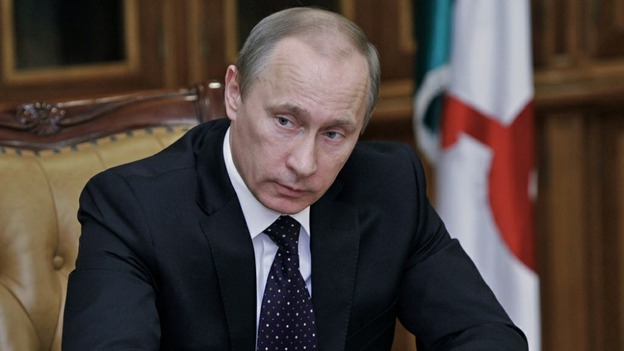 Mr Putin has told the Polish Prime Minister Donald Tusk in a telephone conversation that Euro 2012 organisers were responsible for fan safety.
"Mr Putin stressed that organisers of such international tournaments bear full responsibility for the safety of fans from other countries on their territory," the presidential spokesman told reporters.
Sky Sports News is reporting that as well as a 120,000 Euro fine, the Russian Football Association has also been given a suspended six-point deduction from their next Euro championships qualifying campaign, following fan violence in Poland.
Advertisement
UEFA has fined the Russian Football Association 120,000 Euros (£97,000) for fan violence at the Euro 2012 championships, reports Associated Press.
The number of people arrested in connection with the violence before and after Euro 2012's Group A match between Russia and Poland has risen to 184, according to a Polish Police website.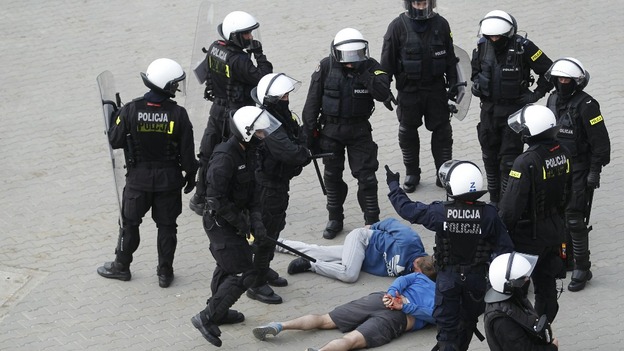 Ten people, including seven Poles, two Russians and a German, had to be treated for non-life threatening injuries. Police are continuing their investigation into the violence.
Sad to see the Euros overshadowed by mindless violence!!! #justthugs!!
Police in Warsaw have made over 140 arrests relating to clashes between Poland and Russia fans and expect to add to that number as investigations continue.
A statement, released via the Polish Police website, read:
There are more than 140 hooligans caught by the police because of disorders in Warsaw - firstly during the march to National Stadion, secondly in the Fanzone in Plac Defilad Square.

Among the kept persons there are fans of both teams - Russian and Polish. There are 10 persons, who are injured: 7 Polish, 2 Russians and 1 German - their lives are not in danger concerning the information from the medical services.
The police operation is still lasting. The police officers are checking the surveillance system, police cameras and still (plan to) identify the hooligans who took part in the disorders. Further arrests are planned.
Advertisement
Footage shows clashes on the streets of Warsaw during the Euro 2012 match between Poland and Russia.
Clashes in Warsaw have led to 123 people being arrested. Riot police were forced to fire tear gas and rubber bullets at fans after they were pelted with missiles including rocks, flares and bottles.
The bloody fighting broke out on the bridge across the Vistula river leading to the national stadium prior to the Euro 2012 match between Poland and Russia.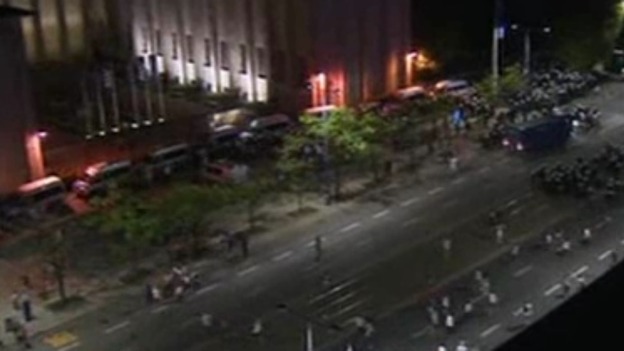 Over 100 arrests were made as Polish and Russian football fans clashed in Warsaw ahead of the two nations' Euro 2012 Group A clash at the National Stadium, which ended in a 1-1 draw.
Load more updates
Back to top