MPs vote against Hunt inquiry
Conservative MPs have defeated the Labour motion that the Culture Secretary Jeremy Hunt should be referred to the Independent Adviser on the Ministerial Code by 38 votes. The Liberal Democrat leadership had asked its MPs to abstain from the vote.
MPs are now voting on whether the Culture Secretary Jeremy Hunt should face an inquiry.
The PM's spokeswoman has confirmed David Cameron will vote.
Out of my hospital bed and on way to HoC for vote so our coalition partners can polish their consciences. Many of us won't forget this
Advertisement
Speaking to the House of Commons, Labour MP Chris Bryant says Culture Secretary Jeremy Hunt "deliberately failed to tell the whole truth to this House."
"It was only the legal powers vested in Leveson," he says, "that forced the truth out into the open."
The words that Nick Clegg gave to the Leveson Inquiry this morning put him a little bit at odds with the actions he's taking at Westminster this afternoon - he's ordered his MPs not to support Jeremy Hunt.
Clegg emerged relatively unscathed from his from his Leveson appearance.
He did say this: Hunt "gave a full, good and convincing account" of his handling of the BSkyB bid - and it's that particular comment that appears to contrast with his instructions to the Liberal Democrats.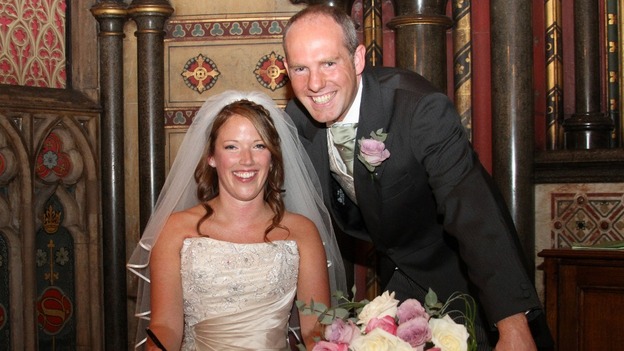 Justin Tomlinson, the Conservative MP for North Swindon, has rushed back from his honeymoon in the Maldives to vote in favour of Culture Secretary Jeremy Hunt.
He said:
"I had been granted permission to be absent from Westminster for my honeymoon until this Friday, although I was always due to land back in the UK this morning. Now I've been asked to return to Westminster today for the vote.
"Thankfully, due to an exceptionally understanding new wife, some quick thinking reorganisation, and a frantic dash, I should be able to make it back.
"I fully understand and appreciate that this is an important vote and I personally am happy to support Jeremy Hunt."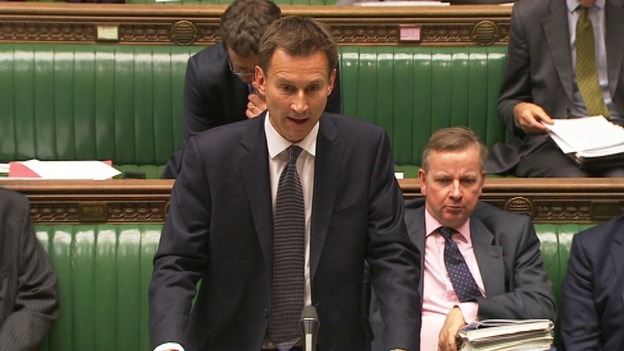 Jeremy Hunt has called allegations that he misled parliament "disgraceful."
In a scrappy exchange, Labour MP Chris Bryant then accused Mr Hunt of lying to parliament.
Tory MP Jacob Rees-Mogg then accused the Labour front bench of being "sanctimonious hypocritical humbugs."
Advertisement
Conservative MP Douglas Carswell objects to the amount of time at PMQs given to debating Jeremy Hunt's position:
Leveson. Leveson. Media bubble blah blah. Anyone in this chamber realise the economy is stuffed and we're on debt precipice? #pmq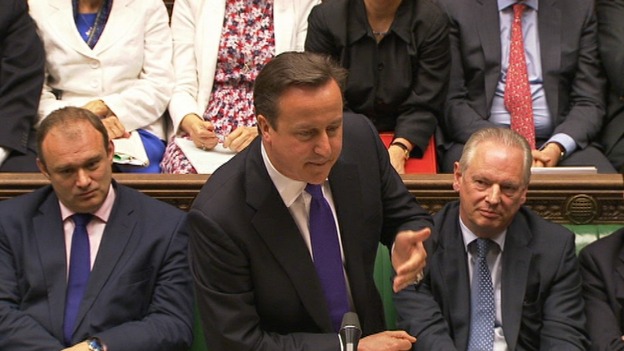 In a heated Prime Minister's Questions, Ed Miliband asked why David Cameron had called in Sir Alex to investigate Tory chairman Baroness Warsi but not Jeremy Hunt.
The Prime Minister said: "There is a very significant difference between the two cases.
"In the case of Baroness Warsi there hasn't been a judge-led inquiry with witnesses, taking evidence under oath, to get to all of the factual evidence behind her case.
"That is why I asked Sir Alex Allan to look at that case and establish some of the facts of that case."
But Mr Miliband said it was not the job of the Leveson Inquiry to investigate alleged breaches of the ministerial code.
The key question from Ed Miliband: if the case for Jeremy Hunt is so strong, why can't Nick Clegg support it?
David Cameron says that the Liberal Democrats didn't have the same relationships with Rupert Murdoch like the Tories and Labour so he understands why they are abstaining.
Asked for Mr Cameron's response to the Lib Dem decision to abstain, a Downing Street spokeswoman said:
The Prime Minister is quite clear about Jeremy Hunt. The evidence provided by Jeremy Hunt showed he had acted in a proper way. He took independent advice at every turn.

As the permanent secretary at the Department for Culture, Media and Sport made very clear, Jeremy Hunt set up a process which left him a 'vanishingly small' chance to manipulate the bid for political or other ends.
The Prime Minister has taken the view that he will not be referring Jeremy Hunt because he has acted properly.

It is up to the Prime Minister to appoint people to the Cabinet and it is his decision to make judgments about whether the ministerial code has been broken or otherwise. In his view, Jeremy Hunt acted properly and appropriately.
Asked whether the PM would attend today's debate, the spokeswoman responded: "He has got engagements in his diary. I don't know whether he will be voting."
Load more updates
Back to top