Euro 2012: England 3 Sweden 2
England have beat Sweden 3-2 in the Euro 2012 Group D match in Kiev with goals from Andy Carroll, Theo Walcott and Danny Welbeck.
by England fan: Mark Perryman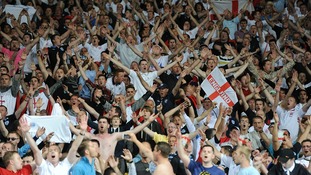 Mark Perryman, a member of the London England Fans supporters group gives a fan's view of England's victory over Sweden.
Read the full story
The sports pages are dominated by England's 3-2 victory against Sweden last night. Goal-scorers Danny Welbeck and Theo Walcott are hailed as heroes. Read the match report here.
The Sun: To Hell... and Beck
The Mirror: Revenge is Swede
Daily Mail: Welbeck to the rescue to leave Hogson's men in driving seat
The Independent: Walcott inspires comeback as England rescue sweet victory
The Express: Theo Walcott saves Roy Hodgson's boys
Advertisement
England fans celebrated into the early hours of this morning after a thrilling victory against Sweden at Euro 2012.
The Three Lions looked set for defeat when they trailed 2-1 in the second half.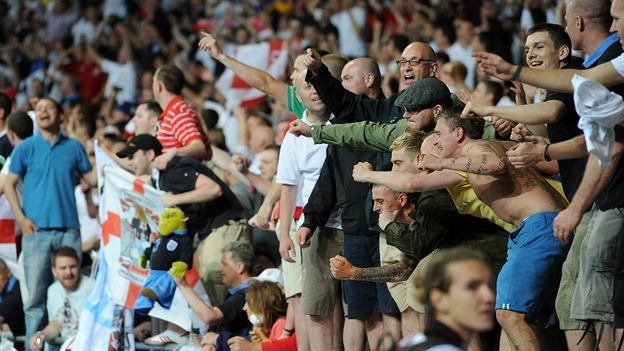 But they fought back to claim a 3-2 victory which left their supporters delighted as they poured out of the Olympic Stadium at midnight local time.
Many England fans headed to the fan zone in Independence Square after the match.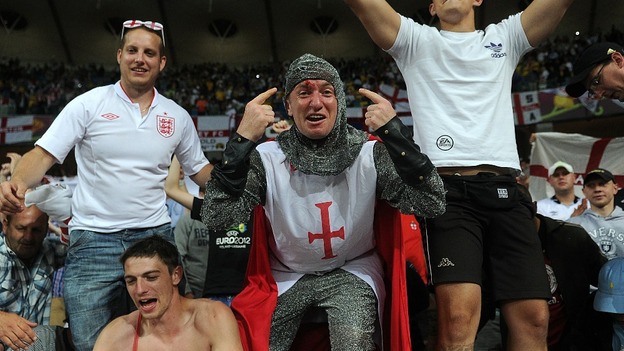 ITV's Rags Martel tweeted that a small group of England fans had waited for the team to arrive back at their hotel in Krakow. They were chanting "3-2, even Carroll scored".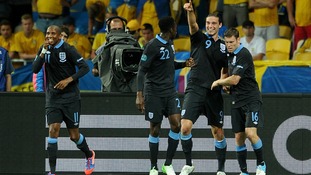 The first thing you have to say about England's match against Sweden is that it was breathtaking.
Read the full story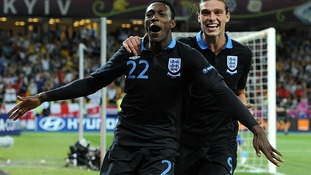 England have ended their winless run against Sweden with a stunning 3 - 2 victory in Kiev.
Read the full story
It's a Wrap! Well done England!!!!
FT - Sweden 2-3 England. After falling 2-1 behind, Walcott equalises and then supplies the winner for Welbeck. Four points from 2 games #EC
Remember, now we add @waynerooney to the mix. England have a real chance in this tournament. #euro2012
Advertisement
England have beat Sweden 3-2 in the Euro 2012 Group D match in Kiev.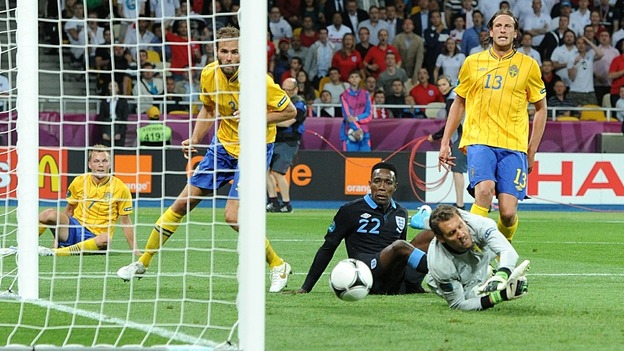 Danny Welbeck has scored England's third goal against Sweden. With less than five minutes to go this could be the goal that wins the game. ITV Sport have more.
YESSSSSSSSS!!! DANNY WELBECK!! WHAT A GOAL!!! Special!!
Well well welbeck!!!!! COME ON ENGLAND
Welbeck av that!!!! Come on englaaaaaaaand!!
Danny Welbeck has scored for a third goal for England. His goal 78 minutes into play mean that England are leading Sweden 3-2.
Load more updates
Back to top