Euro 'permanent bailout fund'
Eurozone members of the G20 may use a permanent bailout fund to buy the debt of member states in financial trouble to help bring down borrowing costs. France says it is currently "an idea, not a decision".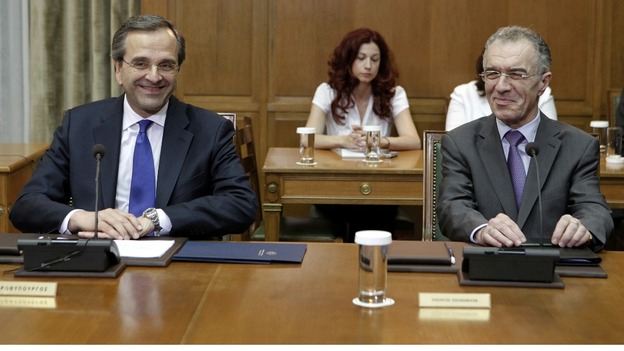 Greece's incoming finance minister Vassilis Rapanos has been rushed to hospital after a fainting spell, said a government official and a source at the bank where he is chairman.
"He felt dizzy and fainted and was taken to hospital where he was given fluids intravenously and will undergo checks," the banking source said.
A government official said he spoke to Rapanos on the phone after he was taken to hospital, where he was in the process of undergoing checks.
Rapanos, the chairman of Greece's biggest commercial bank National Bank of Greece, has been named finance minister in Prime Minister Antonis Samaras's cabinet and was due to be sworn in later today.
The euro has slipped further against the US dollar. One euro will now buy $1.26 USD.
Advertisement
Labour leader Ed Miliband will say today that the G20 summit in Mexico made "no progress" on Europe or global employment and growth, during a speech at the consumer group Which? awards.
This G20 summit should have marked a decisive shift towards jobs and growth, which is vital if we are to get deficits down.

Unfortunately this has not happened because too many governments, our own included, seem to think more of the same is the answer.

The result is a summit that appears to offer no progress for Europe and no global plan for jobs and growth. It is a summit of division when the world needs unity. And a summit of inaction when people, in Britain and across the world, are crying out for action.
David Cameron is visiting Mexico City today on a trade mission designed to boost Britain's business links with one of the world's emerging economic giants. The Prime Minister says he regards building trade links with emerging economies as a vital part of his strategy to restore growth in the UK.
It may be that the eurozone crisis is going to continue for some time, in which case the UK must do all it can to put its own house in order and link up with the fastest-growing parts of the world.
– David Cameron
Italy has launched an idea which is worth looking at. The idea is the following: that virtuous countries - like Italy, which has taken steps to address its public accounts, can finance their debt at interest rates that are not in line with those countries that are seen to be not making efforts. We are looking for ways to use the ESM for this. At the moment it is just an idea, not a decision. It is part of the discussion.
– Francois Hollande, French President
It is understood a scheme being considered to sort out the eurozone financial crisis involves using two bailout funds - the European Financial Stability Facility and the European Stability Mechanism.
Britain is not part of either the EFSF or ESM, so UK taxpayers' money would not be involved.
They would buy up loans taken out by governments (known as bonds) in countries like Spain and Italy which are facing near crippling rates of interest
Such an intervention may reduce the rate of interest (known as yields) which have soared above 7% in Spain
That relieves pressure on governments and makes it cheaper and more affordable for them to keep their economies going
Advertisement
David Cameron says eurozone countries at the G20 summit agreed "to make all necessary policy measures to safeguard the integrity and stability of the eurozone". The Prime Minster added:
They committed to take steps towards fiscal and economic integration including through a banking union. These are significant agreements. Now the eurozone countries need to get on and implement them. What I have sensed at this summit is that there is a fresh impetus with the eurozone members in terms of using all the mechanisms, institutions and firepower that they have to stand up and support their currency.
The Prime Minister is speaking about the progress made at the G20 summit in Mexico.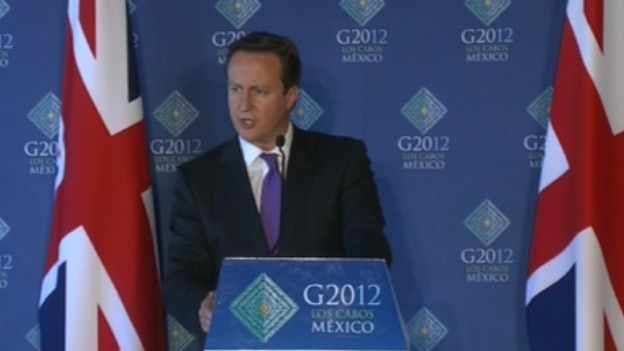 David Cameron said: "I do believe this summit stopped some of the growing risks to world's economy."
Leaked drafts of the G20 communique expected to be released at the end of the summit spoke of moves to establish a "more integrated financial architecture" for the eurozone.
The draft said the G20 supported:
The intention to consider concrete steps towards a more integrated financial architecture, encompassing banking supervision, resolution and recapitalisation and deposit insurance.

Euro area members will foster intra-euro area adjustment through structural reforms to strengthen competitiveness in deficit countries and to promote demand and growth in surplus countries.
Load more updates
Back to top