Unemployment falls by 51,000
Unemployment has fallen by 51,000 between February and April to 2.61 million. But the number of people claiming jobseeker's allowance last month rose by 8,100 to 1.6 million.
The City Tracker maps the city-by-city breakdown of today's Jobseeker's Allowance claimant count and Jobcentre Plus vacancy figures so you can find out if your region has been hit hard by the recession or if it's weathering the storm.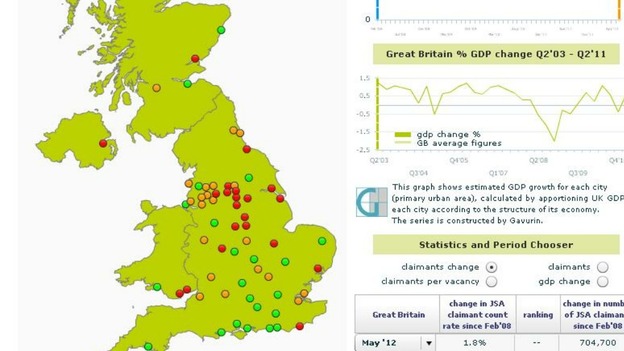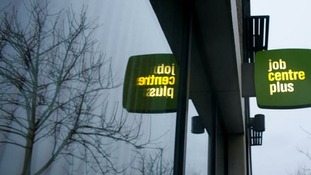 The unemployment figures seem to show improvement - if you are not a woman, jobless long-term or claiming benefits.
Read the full story
Advertisement
Liam Byrne, Shadow Secretary for Work and Pensions, said the real concern he had from the unemployment figures is that "there are now very clear signs of lasting and long term damage that's come from the Government's failure to get people back to work fast enough".
The reality is that many people are suffering as a result of stagnant growth and the brutal public sector cuts, and the Government needs to wake up to this and take action if we are to see any true signs of recovery.
– Unison leader Dave Prentis
A video from the Office for National Statistics shows the latest on the UK labour market.
Unemployment of 2.61 million five years into recession is unacceptable, unnecessary and an unforgivable waste of human talents.

Cameron, Clegg, Osborne and Cable must conclude that Plan A to reduce the deficit to restore growth is not working and has stalled the recovery.

We need an emergency budget to reflate the economy, to restore demand, which will get people back to work and reduce the deficit.
– Paul Kenny, GMB General Secretary
Advertisement
Today's figures show some long overdue good news in the labour market. New full-time jobs have been created and employment is up while unemployment has fallen.

However, there are still real concerns about this being a sustainable recovery. Long-term youth unemployment has risen yet again, the claimant count is still going up and while male unemployment fell by 52,000 in the quarter, the number of unemployed women only fell by 3,000.

We now need to turn today's positive news into a steady fall in unemployment. The Government must invest in jobs to get the economy growing again."
– TUC general secretary Brendan Barber
Any fall in unemployment is very welcome but I remain cautious over the next few months, given the continuing economic challenges we face.

There are more jobs available in the economy with vacancies at 465,000, up 7,000 on this time last year.

The number of people employed in the private sector is up 205,000 on the quarter, more than offsetting a 39,000 fall in public sector employment. The total number of people working full-time has also increased by 82,000.
– Employment Minister Chris Grayling
There are 465,000 job vacancies within the UK and there are around 5.7 people unemployed in relation to each vacancy, the Office for National Statistics said.
The unemployment of 2.61 million people is "unacceptable, unnecessary and unforgivable," the GMB union said.
Load more updates
Back to top