McGuinness to meet Queen
Sinn Fein's Martin McGuinness will meet the Queen next week and shake hands in an historic first for the Northern Ireland peace process, the party has confirmed.
The decision to have Sinn Fein's Martin McGuinness meet the Queen next week is an effort to reach out to unionists in Northern Ireland, his party leader has said.
Gerry Adams told republicans in west Belfast that he opposed the idea of monarchy, but wanted to reassure unionists of their place in his vision of a united Ireland.
This week's meeting is a clear expression of our desire to engage with our unionist neighbours and to demonstrate that we are prepared, once again, to go beyond the rhetoric, as we seek to persuade them that our new Ireland will not be a cold house for unionists or any other section of our people
– gerry adams, president, Sinn Fein

He said his party was correct to boycott the Queen's historic visit to the Republic of Ireland last year, but predicted the historic handshake planned for Wednesday would be a milestone in the peace process.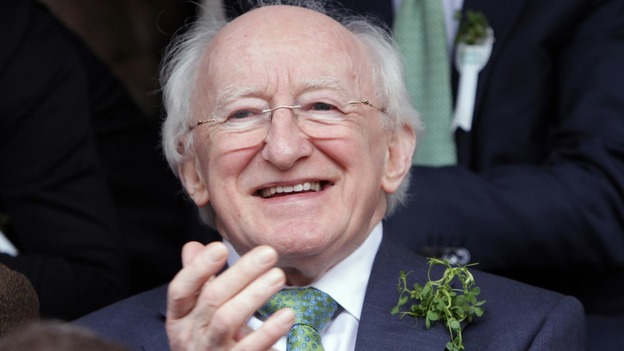 Ireland's President has hailed plans for an historic handshake between the Queen and Martin McGuinness.
President Michael D Higgins will also attend the event where the long awaited encounter is set to take place in Belfast next Wednesday.
The charity Co-operation Ireland is hosting a celebration of culture on the island of Ireland in Belfast's Lyric Theatre and the venue will provide the stage for the first meeting between Sinn Fein and the Queen.
President Higgins, who is visiting Irish communities in Britain, said: "I accepted the invitation on the basis that it would be an inclusive occasion."
He said he hoped the meeting would help foster reconciliation in Northern Ireland.
Advertisement
The historic handshake planned between the Queen and Martin McGuinness is not the only tough meeting for the Queen.
After 60 years our Queen has:
Made over 300 state visits abroad.
Around 25,000 visits around Britain to greet, meet, open and tour events or buildings.
Hosted more than 100 state banquets for foreign heads of state, including Robert Mugabe and Nicolae Ceausescu.
Conferred 400,000 honours.
Dealt with around 150 prime ministers in Britain and the Commonwealth.
Received 3.5m pieces of correspondence.
I'm told by Buckingham Palace officials that whatever the hesitation may have been on the Sinn Fein side, the Queen was more than willing for this meeting to go ahead.
"Always open to it," were the words that were used.
Once, this trip was planned as part of the Diamond Jubilee celebrations. It should be stressed that Sinn Fein are saying that in their view the meeting is not part of those jubilee celebrations. They agonised about it and they voted on it. It was a majority, but not a unanimous vote.
The meeting will be held behind closed doors. It won't be a public event, but it is a historic meeting and it will be photographed for posterity.
Colin Parry, whose son Tim died in an IRA bomb blast in Warrington in 1993, has welcomed a meeting between the Queen and Martin McGuinness.
Mr Parry said the historic handshake with the former IRA commander, was a sign of how much progress was being made in the Northern Ireland peace process.
Presbyterian Moderator Dr Roy Patton welcomed Sinn Fein's decision:
I believe it is of major significance in further healing the divisions in our communities and is a natural progression following the Queen's successful visit to Dublin.

It is a clear demonstration of the progress being made in building a shared future where everyone and their culture is valued and respected.
Advertisement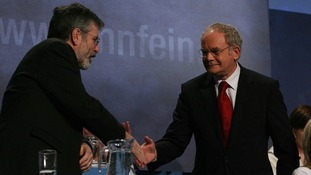 Sinn Fein's Martin McGuinness will meet the Queen next week and shake hands in an historic first for the Northern Ireland peace process.
Read the full story
First Minister Peter Robinson said he was glad the deputy first minister had accepted the invitation.
We recognise that this will be a difficult ask for Her Majesty the Queen and a significant step for republicans.

The process has required us all to reach out and take decisions outside our comfort zone.

It is the right decision and a step forward for Northern Ireland.
Former Cabinet minister Lord Tebbit, whose wife was paralysed in the 1984 Brighton bombing, said:
Personally, I think it is hopeful that Mr McGuinness has decided, presumably on behalf of Sinn Fein, that he should accept the sovereignty of the Queen over Northern Ireland.

I hope it will be followed by some further moves to express repentance for violence that was caused by Sinn Fein-IRA.
The Tory peer added:
We know the views of the people of Northern Ireland. They wish to remain within the UK, so hopefully Martin McGuinness now realises that what went on was violence without a point.
The meeting is understood to be taking place in the Lyric Theatre in south Belfast and is sponsored by Co-operation Ireland, which works to bring divided communities together.
Since it was established in 1979, the charity has created opportunities for groups from the two main religious communities in Northern Ireland and from both sides of the border to learn about each other's traditions and cultures.
The handshake will be viewed as another in a long list of dramatic advances in Anglo-Irish relations.
Load more updates
Back to top