PM welcomes 'bazooka' aid deal
David Cameron has described an EU deal to provide direct aid to Spanish banks as a "big bazooka" that could help solve the Eurozone crisis.
The White House has welcomed the indications that the eurozone leaders 'made progress' in talks on the debt crisis, saying it is encouraged by the progress made but that Europe's challenges will not be solved overnight.
The White House said that the eurozone debt crisis is a process of steps, and that 'a lot of details' still need to be worked out.
David Cameron has described the deal reached at the EU summit as close to the "big bazooka" he wanted to tackle the eurozone crisis.
The Prime Minister highlighted the buying of bonds for countries where interest rates were too high, the seniority of debt, and directly recapitalising banks.
There were one or two important things that took place last night in terms of eurozone action, the sorts of things we have been calling for when we talk about bazookas.

For the first time in some time we have actually seen steps taken that I think the markets will see are trying to get ahead of the game.

They need to be followed through, and I hope there won't be a lot of quibbling and worrying about 'is it too far' and the rest of it.

If they want to save their currency they have got to get on and do it and I think last night's action will help to make that happen.
Advertisement
David Cameron has insisted that Britain should retain control for regulating its banks, and not hand over control to the EU.
David Cameron has made it clear that Britain wants to maintain control over its banks.
The Prime Minister insisted that he wanted the Bank of England to remain in charge of regulating Britain's financial sector.
He also said that British taxpayers should not be asked to bail out eurozone banks.
Shadow chancellor Ed Balls has dismissed a deal on euro debt as "not a big step forward".
He insisted that the policies pursued by David Cameron and German Chancellor Angela Merkel were the wrong ones to sort out the financial crisis.
Yet again, the governments have muddled through and we have not had a decisive step forward. We have not seen the change we actually wanted to see.

I'm afraid we are going to get back to the wrangling and we still have the Cameron/Merkel view which is that big spending cuts will get growth when that is clearly not working.
Angela Merkel says Germany's parliament will vote later on the euro bailout fund, the European Stability Mechanism (ESM).
The German Chancellor said it would be up to finance ministers to decide whether guarantees for direct aid to banks would rest with individual states or the ESM.
Advertisement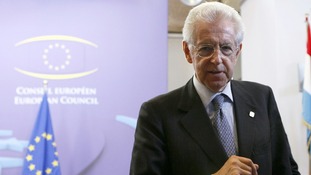 Italian PM Mario Monti has won a concession from Germany over debt hours after Mario Balotelli helped Italy beat the Germans in Euro 2012.
Read the full story
Arriving at the EU summit in Brussels, David Cameron hailed a deal reached by eurozone countries on debt, but admitted more still needed to be done:
David Cameron has welcomed an overnight agreement by eurozone leaders on debt, saying they had taken "some important steps forward".
For a long time we have been saying that more action needs to be taken for short-term financial stability - more to recapitalise banks, to use firewalls to drive down bond spreads and interest rates to create greater stability.

I think they took some important steps forward last night and I very much applaud that. There is still important work to do and that is what we will be doing today.
Irish Taoiseach Enda Kenny has spoken of a seismic shift in European policy at the EU summit.
He said that his country would now get the same treatment as Spain and other countries in helping tackle its overall debt burden, after a deal was hammered out overnight in Brussels.
What was deemed to be unachievable has now become a reality and that principle has been established and decided and agreed upon by the council, by the heads of government.

But for us the more immediate impact is that Ireland is named as getting equal treatment as other countries with difficulties here.
Load more updates
Back to top