Army to lose 17 units in cuts
The army is to lose 17 units in a new wave of defence cuts announced today.
The former head of the Army, General Richard Dannatt, has said that he is not too disappointed to hear that the infantry regiment where he begun his career is to be axed.
General Dannatt served in the Green Howards, which was amalgamated with other Yorkshire-based regiments to form the The Yorkshire Regiment in 2006.
He said the traditions will live on even if the name changes:
The Prime Minister has told ITV News it is "vital" that members of the armed forces who lose their jobs are looked after.
Speaking at an Olympic training facility in Loughborough, Leicestershire he said the plans outlined today are designed to "rebalance" the Armed Forced so there is a smaller regular force but a larger reserve force:
Advertisement
The 2nd Battalion, The Royal Welsh is based at Lucknow Barracks, Wiltshire
2nd Battalion, The Royal Regiment of Fusiliers is based in Trenchard Barracks, Germany
2nd Battalion, The Yorkshire Regiment is based in Cyprus
3rd Battalion, The Mercian Regiment is based in Lumsden Barracks, Germany
5th Battalion, The Royal Regiment of Scotland is based in Howe Barracks, Canterbury
39 Regiment Royal Artillery is based in Newcastle
24 Commando Engineer Regiment is based in Chivenor, North Devon
28 Engineer Regiment is based in Hameln, Germany
67 Works Group is based in Chetwynd Barracks, Nottinghamshire
1 Logistic Support Regiment of the Royal Logistic Corp and
2 Logistic Support Regiment of the Royal Logistic Corp are both based in Abingdon and Germany
23 Pioneer Regiment is based in Bicester, Oxford
101 Force Support Battalion Royal Electrical and Mechanical Engineers is based in Germany, Wrexham, Prestatyn, Coventry and Manchester
5 Regiment Royal Military Police is based in Gutersloh, Germany
Army Air Corps' 1 Regiment based in GermanyArmy Air Corps' 9 Regiment Dishforth North Yorkshire
1st Royal Tank Regiments is based at RAF Honington in Suffolk
2nd Royal Tank Regiments is based in Aliwal Barracks, Tidworth
The Queen's Royal Lancers based in Catterick, North Yorkshire
9th/12th Royal Lancers is based in Hohne, Germany
Lieutenant General Nick Carter who helped to draw up the plans spoke about the loss of morale from the cuts.
He said: "The reality of the design we've come forward with means that we will be able to do the sorts of things that our allies expect of us. There's going to be no change, in a sense, in what the Secretary of State has called 'productivity'."
Shadow Defence Secretary Jim Murphy told Mr Hammond in the Commons:
There is an arc of instability from West African states to Central and Southeast Asia. Non-state actors are on the rise, climate and population change are new sources of tension.

The United States is pivoting towards the pacific while the European end of NATO will take greater strain.

In that context, Mr Speaker, a statement which outlines plans to deliver the smallest Army since the Boer war is an entirely inadequate response.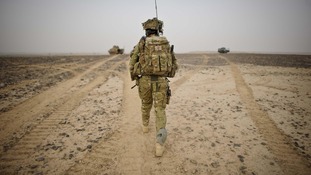 Defence Secretary Philip Hammond has announced plans that will see the Army lose 17 units in cuts
Read the full story
Advertisement
In a statement the Ministry of Defence has described how the army re-structuring will work:
"Under Army 2020 the Army will be structured on the basis of graduated readiness which means that units are held at different degrees of preparedness for operations.
"High-readiness Reaction Forces will meet the Army's contingency tasks. They will comprise an air assault brigade with two attack helicopter regiments and three armoured infantry brigades.
"The Adaptable Forces will be based on a regional footprint and held at lower readiness. They will be made up of seven infantry brigades, comprised of paired Regular and Reserve units.
"They will provide further capacity when required and be able to generate additional brigade-sized forces for enduring operations.
"More routinely, the Adaptable Forces will carry out wider engagement overseas to help to build capacity in friendly nations' armies. They will also fulfil the UK's standing garrison tasks in Brunei, Cyprus and the Falklands Islands, and be responsible for public duties and state ceremonial tasks.
"Finally, Force Troops will provide the specialist support required by the Reaction and Adaptable Forces, including artillery, engineer, surveillance and intelligence, logistic, and medical brigades.
"The new Security Assistance Group will also engage overseas and work closely with the Foreign and Commonwealth Office and the Department for International Development. "
Chief of the General Staff General Sir Peter Wall said:
The Army envisaged under Army 2020 will see our forces become better integrated and fully adaptable. It will capitalise on the powerful merits of a modern regimental system to deliver formidable effect when and where it is needed, and will create the best structure for the Army to face the challenges of the future.

The changes in Army 2020 will demand resilience, flexibility and genuine adaptability from our talented and committed officers and soldiers. It is inevitable that some units will be lost or will merge but we have done this in a way that I believe is fair across the whole Army.
Defence Secretary Philip Hammond said:
After inheriting a massive overspend from the last Government, we have had to make tough decisions to implement our vision of a formidable, adaptable and flexible Armed Forces.

After a decade of enduring operations, we needed to transform the Army and build a balanced, capable and adaptable force ready to face the future.

Army 2020 will create a more flexible and agile Army. Unlike the past, it will be set on a firm foundation of men and materiel, well trained, well equipped, and fully funded.

The Regimental system will remain the bedrock of the Army's fighting future.
Labour's Jim Murphy has said that today's statement is, "long on details but totally short in strategic context."
He went onto say; "This statement has been delayed deliberately to save the Prime Minister's blushes during Armed Forces Day. He sought the reflected glory of the heroes while preparing to cut the prestige that they embody."
Load more updates
Back to top