PM: One last try on Lords reform
David Cameron has told Conservative MPs there will be "one more try" on Lords reform. Ed Miliband had earlier accused him of losing control of his party after a large number of Tories rebelled on a vote on the issue.
In a meeting of Conservative MPs, the Prime Minister said they had to unite and that the real enemy is Labour.
The PM has told Conservative MPs there will be one last try on Lords reform.
He will try to get some agreement on a small elected element. But it sounds like it will be a watered down plan.
The Commons Leader Sir George Young will announce the way forward tomorrow.
The Government will try to get an agreement in the next few weeks, but it won't go on for the rest of the year.
Advertisement
The Prime Minister is on his way into the 1922 committee (a meeting of Conservative MPs.)
I asked him if he'll shout at anyone again - he replied: "I didn't shout at anyone. I had a very calm word. I was firm."
Mr Cameron is being made to stand outside the committee while they hear from a Parliament official. He's having to chat to journalists. I'm not sure what's worse.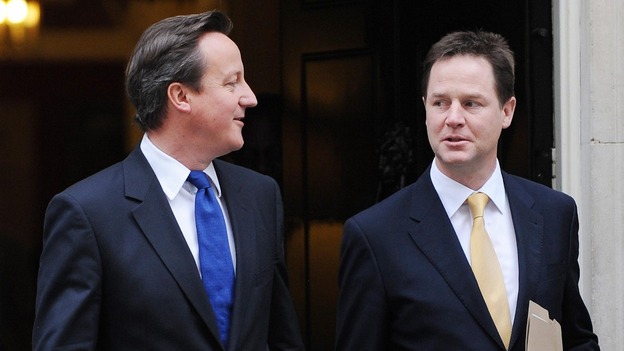 The Prime Minister is planning to offer Nick Clegg a new Lords reform deal which would be a "major watering down of Clegg's reform plans," according to a report in the Guardian.
The proposal would result in the cutting of 92 hereditary peers along with a similar figure of new Lords elections in 2015.
David Cameron will also tell the Liberal Democrats that no further reforms will be introduced until after the next general election, the report says.
Andrew Griffiths was one of the 91 Tory MPs who opposed the House of Lords reform bill's second reading, against the wishes of his party. He told ITV News the issue was "too important" to compromise for party politics:
Labour MP Karl Turner has described the moment that an "animated and angry" David Cameron confronted Conservative rebel Jesse Norman after Tuesday's vote on the House of Lords reform.
Advertisement
This was a big rebellion and it wasn't just the usual suspects. Many of the 'Tory rebels' who pulled rank do not normally do so.
So will House of Lords reform go ahead? The Liberal Democrats say it must - that they have made compromises over things like tuition fees.
The issue of a timetable to get the reforms through the House of Commons was withdrawn yesterday and will come back in the Autumn, but many of those Tory rebels have said they do not intend to change their mind.
The one glimmer of hope is Labour. There are enough Labour MPs in the House of Commons to vote for Lords reform and if they back the timetable then it could just go through.
See the footage of Ed Miliband's showdown with David Cameron over Lords reform at Prime Minister's Questions today: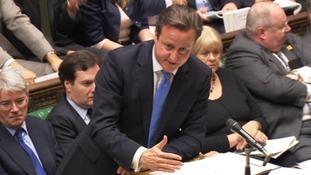 In his final Prime Minister's Questions before recess, the man in question looked as though he needed a holiday more than ever
Read the full story
Following several references to it during Prime Minister's Questions, the Tory MP Jesse Norman sent this tweet about his reported confrontation with David Cameron last night:
Rumours of my demise are somewhat exaggerated.
Load more updates
Back to top