Historic UK-Afghan-Pakistan talks
The Prime Minister is meeting the premiers of Afghanistan and Pakistan in Kabul - the first time the three leaders have come together. He has warned the Taliban that Nato will leave Afghan forces fully prepared to take over in 2014.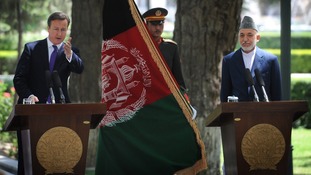 David Cameron has warned the Taliban not to "wait it out" in Afghanistan until troops withdraw in 2014.
Read the full story
David Cameron has warned the Taliban not to "wait it out" in Afghanistan until troops withdraw in 2014.
The PM said British support for the country would remain long after the planned exit date, which will see all international combat forces leave.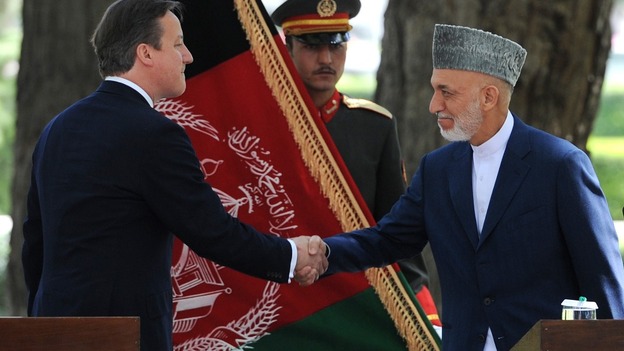 Afghan security forces are "capable and large" but Britain's support for the nation will continue for many years, he said.
"The Taliban should be in no doubt that we will handing over to a very large, very capable Afghan security force," Mr Cameron said at a joint press conference with Afghan president Hamid Karzai, held in the gardens of the presidential palace.
He added: "You cannot wait this out until foreign forces leave in 2014 because we will be firm friends and supporters of Afghanistan long after 2014."
Advertisement
An off-microphone moment after the Cameron/Karzai press conference: We hear Karzai praise the female lobby correspondents for chosing to cover heads.
On Taliban peace talks, David Cameron says the transition to Afghan security would be "improved by further political co-operation."
David Cameron and Afghan president Hamid Karzai have been holding a joint press conference in Afghanistan.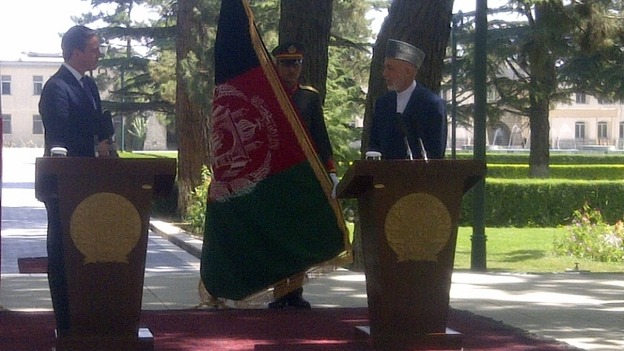 Speaking about the withdrawal of troops in Afghanistan, the Prime Minster said: "I say to the Taliban, 'you cannot wait this out until 2014', because we will be a firm supporter of Afghanistan in the future."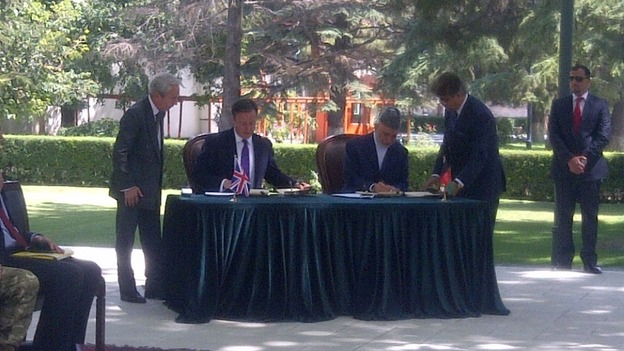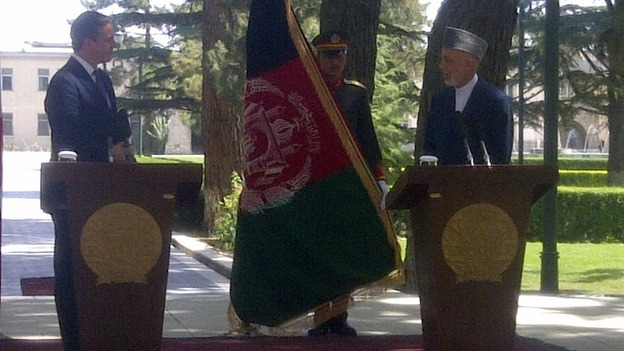 Advertisement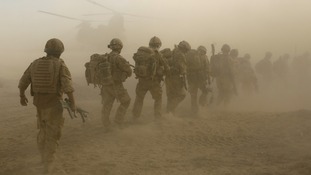 The Prime Minister is to meet the leaders of Afghanistan and Pakistan together for the first time as he eyes Britain's eventual withdrawal
Read the full story
Prime Minister David Cameron said protecting benefits for injured soldiers was "one way" for the country to show their respect for the work the armed forces do.
He said he intervened to make sure soldiers did not lose out in the benefits shake-up planned for April next year.
I think this is absolutely vital. The military covenant, it's all about the country saying to our Armed Forces 'We respect and revere you and we are going to do more for you'.

We are now saying when it comes to the disability benefits we are reforming, the military are going to have a special set of circumstances so they get a special deal.

I intervened to make sure that happens and I think that is one of the many ways we should respect our armed services for what they do for us.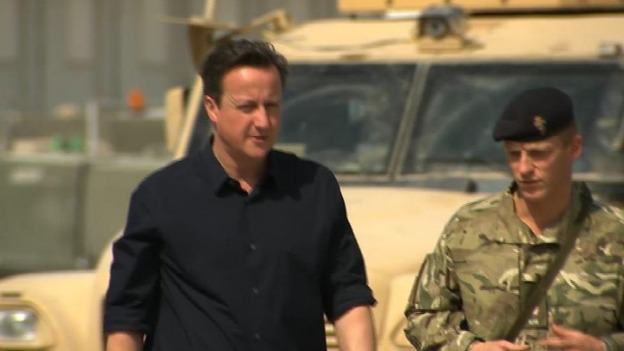 Prime Minister David Cameron has announced that injured troops will be given a guaranteed disability payment worth around £130 when next year's welfare reforms come in.
A special allowance is being set up to ensure Army veterans with the most severe injuries will not lose out when the current Disability Living Allowance is replaced by a Personal Independence Payment (Pip) in April next year.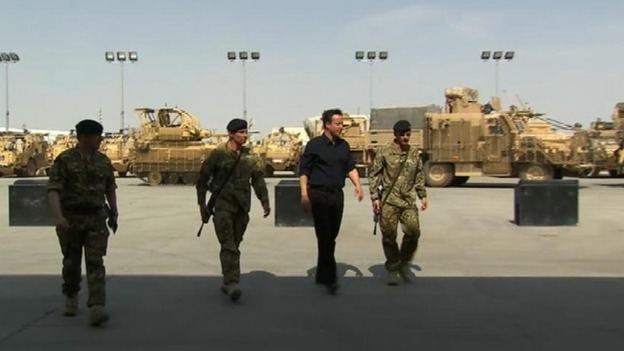 David Cameron shared a drink with soldiers at the Forward Operating Base Shawqat, in Nad-e-Ali. The troops praised their Afghan counterparts saying they were getting better at engaging in active combat with the Taliban.
Company Sergeant Major Nathan Love told the Prime Minister:
"Their soldiers are no different to ours, they are a little bit lazy compared to ours, but they can go out and fight, they can go on one knee. They are more than happy to go forward and push the Taliban back."
Load more updates
Back to top