Historic UK-Afghan-Pakistan talks
The Prime Minister is meeting the premiers of Afghanistan and Pakistan in Kabul - the first time the three leaders have come together. He has warned the Taliban that Nato will leave Afghan forces fully prepared to take over in 2014.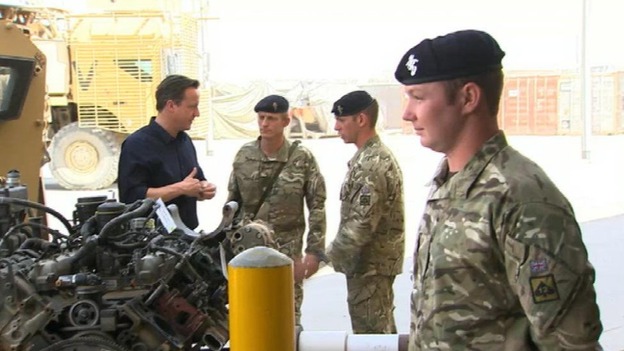 Prime Minister David Cameron shared a lunch of German sausage and potato with soldiers as he visited the headquarters of Task Force Helmand in Lashkar Gah in Afghanistan.
He used the meal to ask the troops about the protection new vehicles are offering from roadside bombs. He asked Lance Corporal Simon Howells:
"Do you feel now that if you did roll over an IED, the vehicle would be more robust?"
Corporal Howells replied that the new vehicles feel "pretty safe."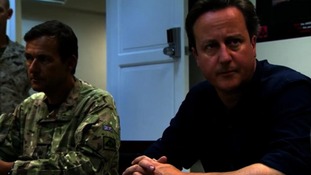 The Prime Minister insisted using the military at the Olympics would have no impact on the mission in Afghanistan.
Read the full story
Advertisement
David Cameron insisted today that he was "confident" he could meet his promise to bring British troops back from Afghanistan by the end of 2014 as he arrived in Helmand Province for a tour of Camp Bastion.
The Prime Minister said an announcement about the number of soldiers being brought back in 2013 would be made by the end of this year after being told significant progress had been made on the ground.
Mr Cameron defended major reductions in troop numbers, which will see a 20% reduction in the manpower of the regular Army, admitting it was a "difficult decision" but he insisted he could "look all the Armed Forces in the eye" because it had been the right thing to do.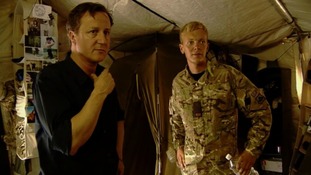 David Cameron is making a visit to British troops in Afghanistan to be briefed on their plans to start pulling troops out of the country
Read the full story
Load more updates
Back to top