At least 107 dead in Iraq attacks
A wave of bomb attacks in Iraq has killed at least 107 people and wounded many more, according to Reuters news agency.
This footage filmed in Taji and Sadr City shows the aftermath of bomb attacks that place earlier today.
In Taji, a town 20 km (12 miles) north of the capital Baghdad, twin car bombs exploded in rapid succession and a suicide bomber himself up, Reuters reports.
Two car bombs also struck near a government building in Sadr City, a Shi'ite neighbourhood in Baghdad.
I utterly condemn the bomb attacks that have taken place across Iraq over the past few days. I offer my deepest condolences to the families of those who lost their lives.

My thoughts are with them and with the many who have been injured at this terrible time.
Coming at the start of the holy month of Ramadan, a time of peaceful reflection and prayer, these attacks demonstrate an appalling disregard for human life.

We will continue to support the government of Iraq in its efforts to defeat terrorism, and to provide security for all Iraqis.
– William Hague, Foreign Secretary
Advertisement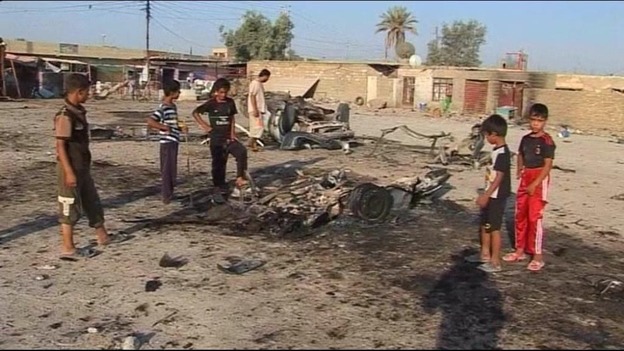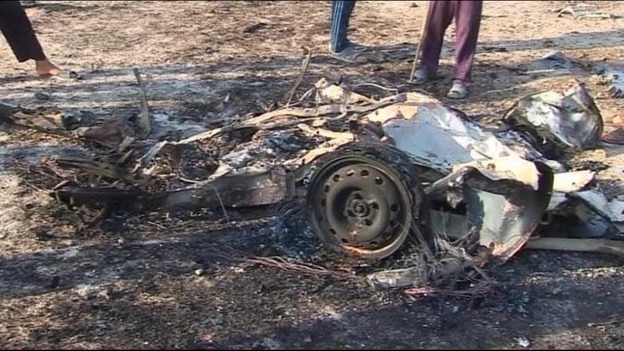 Mohammed Munim, 35, was working at an Interior Ministry office that issues government ID cards to residents in Baghdad's Shiite Sadr City neighborhood when a car exploded outside.
He was hit by shrapnel in his neck and back.
Mr Munin told the Associated Press from his hospital bed:
It was a thunderous explosion.

The only thing I remember was the smoke and fire, which was everywhere.
The Associated Press are reporting that 93 people have been killed in violence across Iraq today.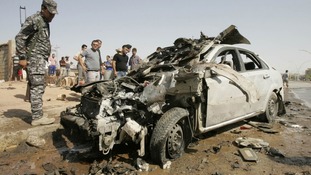 At least 107 people have been killed and more than 260 wounded after a wave of attacks across Iraq, police and hospital sources have said.
Read the full story
Advertisement
An army captain has told Reuters that gunmen used machine guns and hand grenades in an attack on a military post near Dhuluiya, 70 km (45 miles) north of Baghdad.
The death toll after a day of violence in Iraq has risen to 89, including 16 soldiers killed in an attack on a military post in northern Iraq, police and army sources have told Reuters.
This footage shows the scene in northern city of Kirkuk, Iraq, where four car bombs killed four people and wounded 15 others.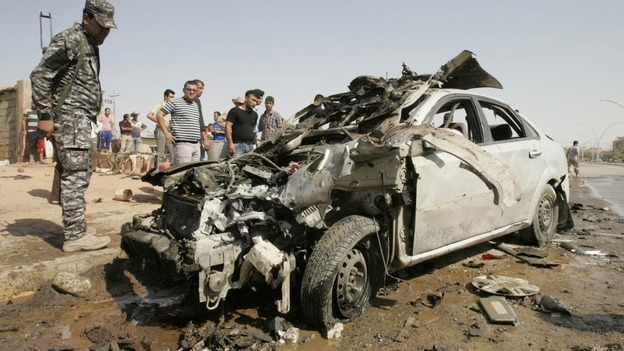 The violence in 12 Iraqi cities and towns which has killed at least 82 people appears to have been coordinated as the wave of attacks all took place within a few hours of each other.
They struck mostly at security forces and government officials.
Load more updates
Back to top