Cash in hand 'morally wrong'
Exchequer Secretary David Gauke has said that home-owners who accept a discount and pay workers cash in hand, are guilty of helping them avoid tax and has called the practise 'morally wrong.'
Deputy Prime Minister Nick Clegg said today that he had "paid people in the past with cash" but differentiated that he did not have the intention to "avoid tax". Mr Clegg said that it was important for "everyone to pay their fair share".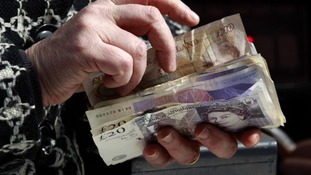 Exchequer Secretary David Gauke has said that home-owners who pay workers cash in hand are "morally wrong."
Read the full story
Advertisement
Nick Clegg has told the Channel 4 News presenter Cathy Newman he may have paid cash in hand:
DPM tells me he 'may' have paid tradesmen cash in hand but wasn't dodging tax
The Business Secretary Vince Cable told ITV News that he has paid cash in hand as it is "perfectly legal and moral" practice, provided it is not done with the objective of avoiding tax.
Business Secretary Vince Cable has said that while "there is nothing with paying people cash - what is wrong if people do it knowing that this is a way to avoid tax and where there is an understanding that the difference will be split."
Exchequer Secretary David Gauke has said that it is 'morally wrong' for customers to pay cash in hand for services as it allows contractors to avoid tax, but what do you think - is it moral to pay cash in hand?
You can also join the conversation on the ITV News Facebook page.
Advertisement
Tax specialist Miles Dean, of Milestone International Tax Partners, said those who paid cash in hand were guilty of fraud rather than tax avoidance.
He said:
What David Gauke fails to understand is that paying the plumber, builder or candlestick maker in cash to avoid the VAT element is fraud.

The provider of the services is obliged by law to charge VAT - if he doesn't and the customer agrees to pay cash without an invoice the two have colluded to defraud HM Revenue and Customs.

This isn't tax avoidance, it is fraud.
Asked whether paying cash in hand was "morally wrong", Labour leader Ed Miliband said ministers should be focusing on large-scale tax avoidance.
Speaking on a visit to Paris, Mr Miliband said: "What I say is that the job of government is to pass the right laws to clamp down on tax avoidance - that's the most important thing of all.
"What I will be saying to the Government is that they should be clamping down on the large-scale tax avoidance which has been revealed in the past few days and I think that's what people want to see from the Government."
Reacting to a Treasury minister's labelling of paying cash in hand 'morally wrong,' Tariq Dag Khan of trade website Rated People said:
David Gauke's comments that it is morally wrong to pay tradesmen in cash do little to help tradesmen who are struggling in a difficult economic climate. For the reality is that there is little or no alternative to cash payments for many tradesmen, and criticising the whole industry belies a misunderstanding of the situation many customers and tradesmen are in.
There is a great deal of trust involved when hiring a tradesman for both the tradesman and the customer and therefore cheque payments do not provide a viable alternative especially when, if the cheque bounces, the tradesmen could be dangerously out of pocket and in some circumstances forced out of business as a result.
We asked if you agreed with Treasury minister David Gauke saying that paying cash in hand for work was 'morally wrong.'
Here are some of the comments we received, you can add your own on our Facebook page.
Load more updates
Back to top