'Human rights violated in Syria'
Videos apparently showing rebels killing supporters of Syrian President Bashar al-Assad in Aleppo prove that both sides in the conflict violate human rights, according to Russia's Deputy Foreign Minister Gennady Gatilov.
David Cameron and Vladimir Putin will hold talks on the Syrian civil war in London tomorrow.
The British Prime Minister and Russian President will discuss the crisis during a bilateral summit in Downing Street.
Mr Cameron is likely to raise Russia's continual blocking of a United Nations Security Council resolution designed to increase the pressure on President Bashar Assad as he presses on with his brutal crackdown on pro-democracy fighters in a conflict which has led to at least 19,000 deaths.
Amnesty International have released a report blaming government forces for the assault on Aleppo, saying it was, "the culmination of months of a brutal crackdown against dissident voices."
The current onslaught on the city of Aleppo – which puts civilians even more at grave risk– is a predictable development which follows the disturbing pattern of abuses by state forces across the country
– Donatella Rovera, Senior Crisis Response Adviser, Amnesty International
Advertisement
Videos apparently showing rebels killing supporters of Syrian President Bashar al-Assad in Aleppo prove that both sides in the conflict violate human rights, according to Russia's Deputy Foreign Minister Gennady Gatilov.
"The harsh massacre of supporters of the government by the opposition confirms human rights violations are taking place on both sides," Gatilov said on twitter.
"It would be useful if Western and Arab politicians looked at the situation in Syria from this angle too. Everybody must stop violence."
by ITV News Correspondent Paul Davies
The latest report from Aleppo comes from a young student, 'Johnny', who told ITV News the city is much quieter now after a night of fierce fighting between government forces and the Free Syrian Army which controls large areas.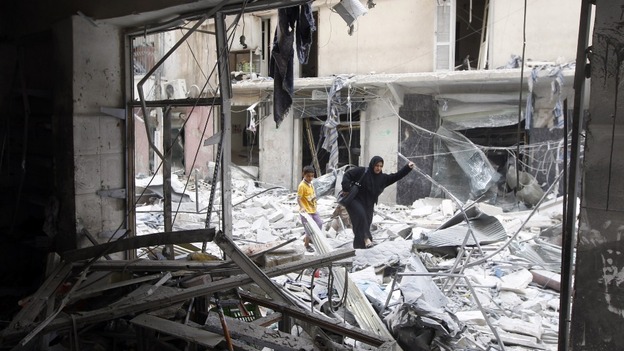 He watched Government jets bombing the Salah al-Din district which also came under heavy shelling.Most civilians have fled the area but worryingly this eye witness said some shells were falling on neighbouring suburbs where hundreds of families are taking shelter.
He says he was able to tour the city today and saw Assad's army still in control of the city centre but the Free Syrian Army (FSA) was openly patrolling several suburbs. Every sign the destructive battle for Aleppo going to drag on.
UN humanitarian chief Baroness Amos has said that violence in Syria is not restricted to the city of Aleppo, as reports of fighting in Damascus have broken out. Baroness Amos told BBC Radio 4's Today programme:
It's extremely worrying. It's not just Aleppo. A couple of nights ago we had renewed conflict in parts of Damascus as well.

People who are able to cross the border are reporting snipers and road blocks, so we also have a concern that those who are trying to leave, are being prevented from leaving as well.

Most people are seeking shelter in places such as schools. There are about 7,000 people who are in Aleppo University.
Human Rights Watch deputy director for the Middle East has condemned reports of executions committed by Free Syrian Army members in Aleppo.
Footage allegedly showed armed rebels shooting four men suspected of being leader members of President Assad's forces.
The reported execution by FSA of members of the Berri clan in #Aleppo is a war crime. Such reprisals never justified.
Advertisement
A 'turning point' has been reached in Syria after rebels for the first time acquired a small supply of surface-to-air missiles, according to NBC News.
NBC's Richard Engel reported that rebels have acquired dozens of "shoulder-fired anti-aircraft missiles" from Turkey, giving them a chance to counter-attack.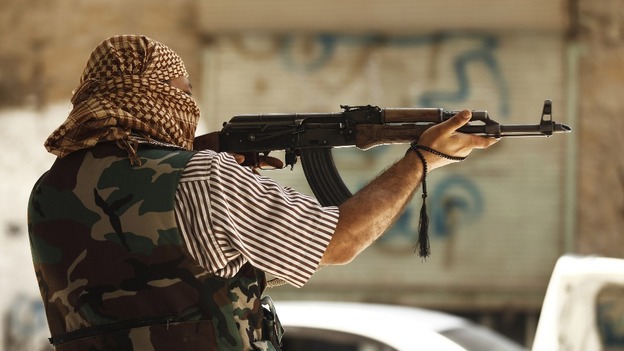 The United Nations said today that observers in Syria are reporting fighter jets firing on rebels in Aleppo.
Syria's President Assad has said today that foreign enemies are using "internal agents" to undermine the country's stability, according to the Associated Press.
In a speech to armed forces on the 67th anniversary of its founding, Assad said the forces were the "homeland's shield" against plots by terrorist gangs.
He said the people see the army as a "source of pride" and a "defender of just causes". The speech was carried by the state news agency but not broadcast on state television.
At least one person has been killed in clashes that erupted at dawn in a neighbourhood in the Syrian city of Damascus, according to reports.
Fighting broke out between rebels and security forces in Bab Touma, a predominantly Christian neighbourhood on the eastern side of the medieval city centre, the Britain-based Syrian Observatory for Human Rights said.
Residents said shots lasted for about half an hour between 3am and 4am.
Load more updates
Back to top