Twitter joke man wins appeal
A man found guilty of sending a menacing tweet today has won his High Court appeal against his conviction. Paul Chambers was fined £385 and ordered to pay £600 costs after sending a joke tweet threatening to blow up Robin Hood airport.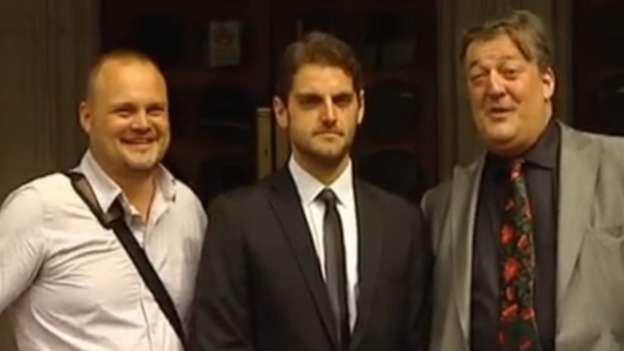 Paul Chambers, who won his High Court appeal against his conviction today, was joined by comedian Al Murray (left) and broadcaster Stephen Fry (right) - both of whom publically showed their support to the accountant.
Today's judgement is an advance in the justice system's handling of free speech on the web. As more and more of us use social media, it is important that the law understands how people communicate online. This ruling is a step in the right direction.
– Kirsty Hughes, Chief Executive of Index on Censorship
Advertisement
The Court of Appeal judgement said that Paul Chambers' tweet was not "menacing" and the message "lacked the characteristics required for the purposes of this offence".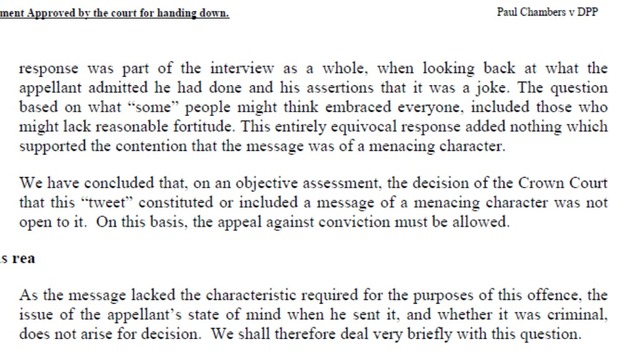 Click here for the full judgement given by the Lord Chief Justice today.
It was important that the High Court deliver a judgment on this matter so that both the public and those working in the criminal justice system could be certain of the law regarding the sending of menacing messages. We respect the court's decision and will not be appealing.
Following our decision to charge Mr Chambers, both the magistrates' court and the Crown Court, in upholding his conviction, agreed that his message had the potential to cause real concern to members of the public, such as those travelling through the airport during the relevant time. Presenting our case allowed the High Court to hear both sides and reach a fully considered decision. We have noted and accepted the court's reasoning.
– Crown Prosecution Service spokesperson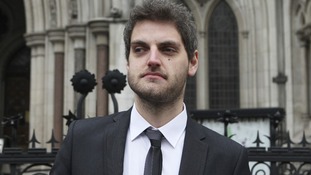 A man found guilty of sending a menacing tweet has won his challenge against conviction.
Read the full story
So... it's been an alright day so far. In the scheme of things. I suppose.
Advertisement
In November 2010, Crown Court judge Jacqueline Davies, sitting with two magistrates, dismissed Chambers' appeal, saying that the electronic communication was "clearly menacing" and that airport staff were sufficiently concerned to report it.
Today, the Lord Chief Justice Lord Judge, sitting with Mr Justice Owen and Mr Justice Griffith Williams, said:
We have concluded that, on an objective assessment, the decision of the Crown Court that this 'tweet' constituted or included a message of a menacing character was not open to it.

On this basis, the appeal against conviction must be allowed.
Paul Chambers, 28, was fined £385 and ordered to pay £600 costs at Doncaster Magistrates' Court in May 2010 after being convicted of sending "a message of a menacing character", contrary to provisions of the 2003 Communications Act.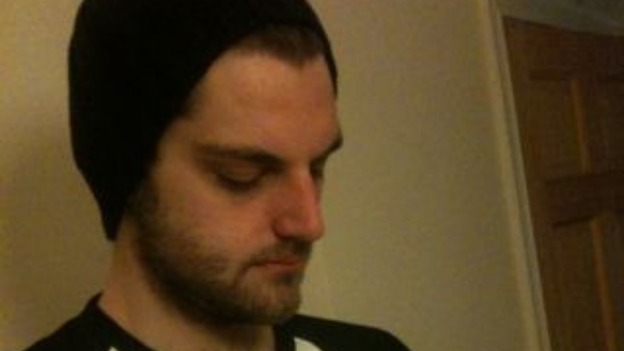 He said he sent the tweet to his 600 followers in a moment of frustration after Robin Hood Airport in South Yorkshire was closed by snow in January 2010, and never thought anyone would take his "silly joke" seriously.
It read: "Crap! Robin Hood Airport is closed. You've got a week and a bit to get your s*** together, otherwise I'm blowing the airport sky high!"
Load more updates
Back to top