Extra Olympics tickets on sale
Hundreds of extra Olympics tickets have gone on sale overnight after the organisers of London 2012 contacted international federations who have not used their allocations.
The London 2012 ticketing site was showing some athletics tickets were available this morning. Previously all athletics events had been sold out.
Most of the tickets available were for the more expensive tickets, starting at £725. Some cheaper tickets - £95 and £125 - were also available.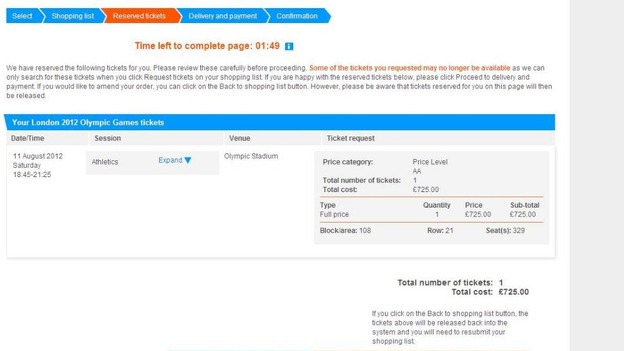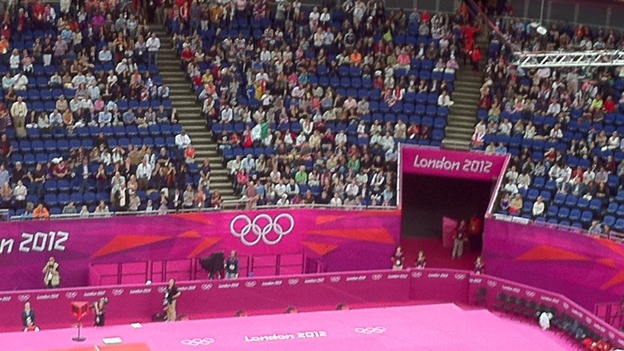 Hundreds of extra Olympics tickets have gone on sale overnight after the organisers of London 2012 contacted international federations who have not used their allocations.
Advertisement
The International Olympic Committee denied any responsibility for the empty seats that have been visible at many of the Olympic venues.
The London 2012 organisers, LOCOG, have said that the empty seating areas are reserved for athletes and officials - something they are obliged to do under IOC rules.
Today, Mark Adams of the IOC said this policy was not being reviewed:
We're happy with the way Locog are dealing with it. Our bit [area of responsibility] is the way that our tickets are given to national Olympic committees, how they sell tickets in other countries as opposed to home countries.That has nothing to do with accredited areas because they are not ticketed.
– Mark Adams, ioc
Lord Moynihan, the chairman of the British Olympic Association, has urged the International Olympics Committee (IOC) to learn from a ticketing problem he said had dogged the previous three Games in Sydney, Athens and Beijing.
It is time to stop the blame game and also to recognise that this is such a major and complex issue ... This requires huge investment. We're not talking £100 million-£200 million. The IOC have now got to take the lead and make sure the investment is in place for a state-of-the-art ticketing policy. It is our view that LOCOG are working exceptionally hard to try to sort out as many of the challenges associated with ticketing as possible.
– Lord Moynihan, BOA chairman
The British Olympic Association called on the International Olympic Committee (IOC) today to completely revamp its ticketing policy for future Games.
London 2012 has become the latest Olympics to be plagued by empty seats in sold-out events, leading to criticism of the Games organisers.
They blame the empty seats on their obligation, under IOC rules, to reserve blocks of seating for Olympic athletes and officials without any indication as to whether they will turn up to claim them.
The BOA has yet to raise the issue with the IOC but is planning to do at its post-Olympics debriefing.
A 37-year-old man has been arrested on suspicion of selling tickets without authority at the Olympic rowing event at Eton Dorney this morning, Thames Valley Police say.
The man was arrested shortly after 8.30am having been detained by security staff at the transport hub at Windsor Racecourse. He remains in police custody.
Supt Andy Standen, the Silver Commander of the policing operation, said: "Members of the public are reminded that tickets are not available at the venues and anyone caught selling tickets may be liable for arrest."
Advertisement
There is a smattering of empty seats at the Tunisia vs. Iceland handball game at the Copper Box in the Olympic Park this morning.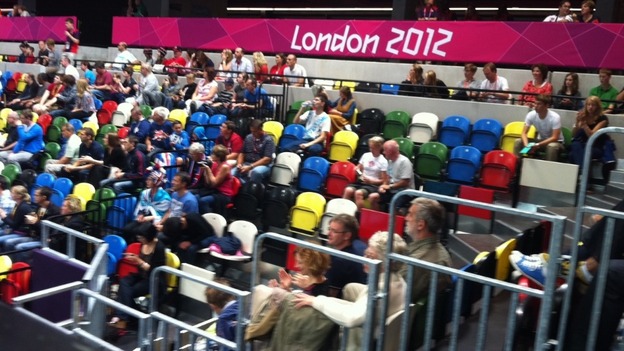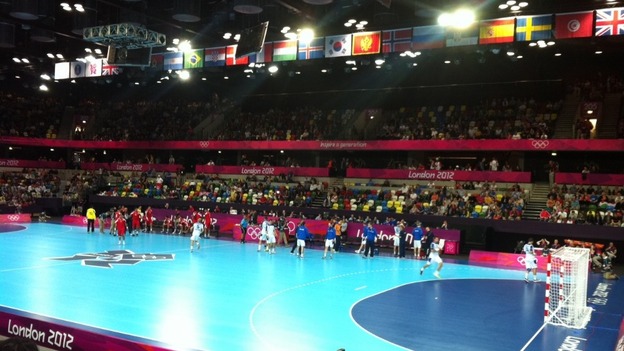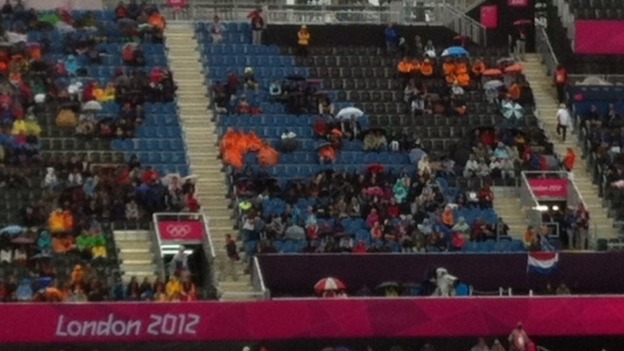 There are more empty seats at the Olympic hockey, Netherlands vs. Russia, although the delays on the Central line may have prevented many from arriving on time.
Many of the seats were empty at Wembley Arena with just two minutes to go until the Olympic badminton group stages began this morning.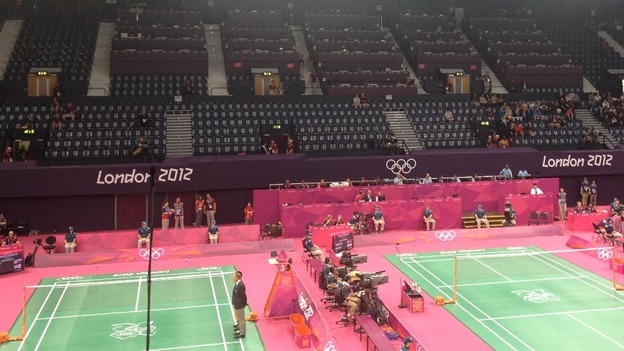 Edward Parkinson, director of Viagogo Ticket Agency, has told Daybreak that organisers should sell unused tickets - if officials fail to turn up to any of the events.
He said: 'There are few simple thing that can be done, move people with cheaper seats forward, have a stand-by list and put spare tickets back on sale.'
Load more updates
Back to top