Team GB win gymnastics bronze
Team GB have won a bronze medal in the men's team gymnastics event at London 2012. The team had initially won a silver medal but an appeal by Japan over a fall from the pommel horse pushed the UK down to bronze.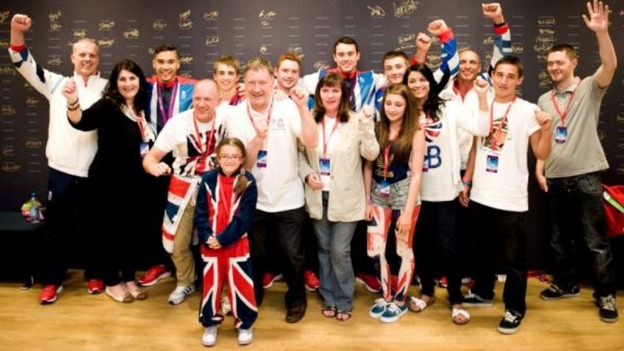 Team GB have tweeted a picture of the male gymnastics team celebrating last nights bronze medal with friends and family at Team GB house.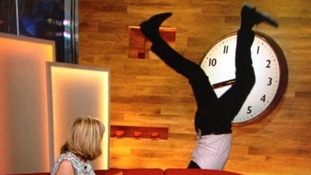 Watching the British men's gymnastics team win a bronze medal at the Olympics last night inspired Daybreak presenter Dan Lobb to have a go
Read the full story
Advertisement
The co-presenter of ITV Daybreak, Dan Lobb, was so inspired by the performance of the British men's Olympic team last night that he attempted his own routine, live on air.
Team GB gymnasts have told Daybreak they are 'ecstatic' at winning a medal despite being bumped down to bronze after a Japanese appeal.
Visit the Daybreak website for all the latest Olympic interviews.
A day after winning a bronze medal in the Olympic Artistic Gymnastics Team event, Great Britain's gymnasts said they "went out there and had fun".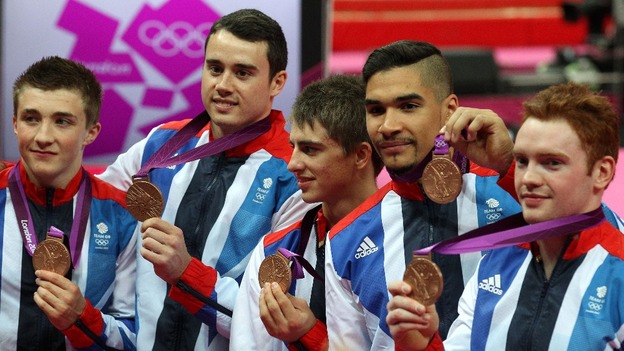 Asked whether they were disappointed at having come so close to winning a silver medal, they told ITV Daybreak that they "made history" just by reaching the final and that the colour of the medal wasn't important.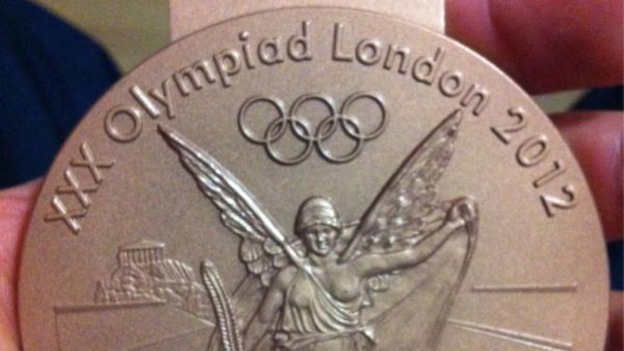 Gymnast Max Whitlock, who is a member of Team GB's gynmastics team which claimed a bronze medal at the Olympic Games on Monday, tweeted this photo of the medal he won at the North Greenwich Arena.
The 19-year-old said on Twitter that he "can't believe I am holding an Olympic medal now".
Advertisement
Team GB gymnasts have told ITV News they are "overwhelmed" by winning a bronze medal in the men's team event.
Team GB gymnast Sam Oldham, who won a bronze medal, has tweeted:
Most incredible experience of my life thanks to the whole British public you guys are amazing!!! Oh my days I'm an Olympic medalist!!!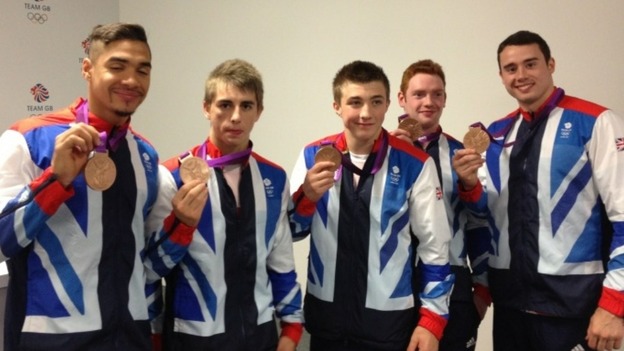 The parents of Sam Oldham, Dawn and Bob (pictured left) join Kristian Thomas's parents, Peter and Catherine, to talk of their pride at their children's bronze medal in the men's team gymnastics event.
Load more updates
Back to top