Boris gets stuck on zip wire
London Mayor Boris Johnson ended up getting a lot more attention that he bargained for today after getting stuck on a zipwire over a park in east London.
The Prime Minister described Boris Johnson's 'absolute triumph' in getting stuck on a zip wire earlier today. He added how the London Mayor 'defies all forms of gravity.'
If any other politician anywhere in the world was stuck on a zipwire it would be a disaster. For Boris, it's an absolute triumph.
– DAVID CAMERON
Advertisement
After being filmed today by ITV London getting stuck on a zipwire, Boris Johnson spoke to radio station LBC 97.3. He said:
You may remember a long time ago, I fell in a river in order to promote volunteering. It was in exactly the same spirit that I brilliantly decided to come to a juddering halt in the middle of the zip-wire in order to promote our wonderful live site at Victoria Park. Get on down to Victoria Park, folks. Free entertainment, hog roast, you name it. It turned out I was the Yuri Gagarin of the zip-wire. I was testing it.
The moment London Mayor Boris Johnson got stuck on a zipwire was caught on camera by ITV London today. He ended up suspended in mid-air at an Olympic event in Hackney, east London.
Watch the video in full at ITV London.
Despite being left dangling in the air, London Mayor Boris Johnson said his trip on a zipwire was "wonderful" and he "thoroughly recommended it". Speaking to ITV London he said he wasn't sure how he got stuck. Watch the interview in full here.
ITV London Tonight captured the moment Boris Johnson got stuck on a zipwire. Watch the video here.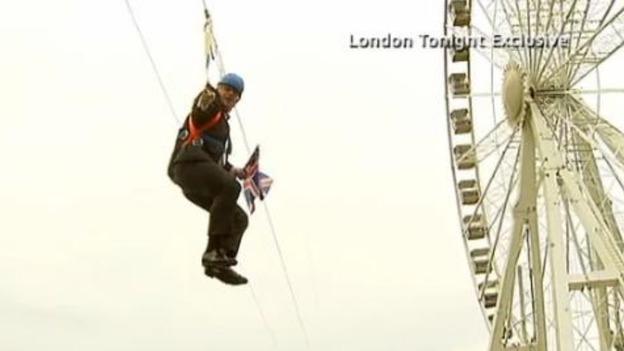 Advertisement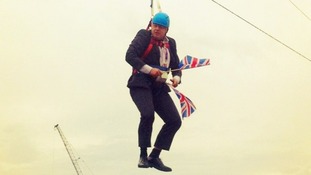 The Mayor of London was left dangling over a park in east London. He was heard shouting "This is great fun but it needs to go faster".
Read the full story
Back to top