Jessica Ennis wows London
Jessica Ennis realised her Olympic dream on Saturday as she claimed gold in the heptathlon.
Jessica Ennis breaks records with Olympic heptathlon title
Jessica Ennis has set new British and Commonwealth records on her way to securing Olympic heptathlon gold.
Her final points score of 6955 saw her finish over 300 points ahead of Russian world champion Tatyana Chernova, who claimed silver with 6628 points.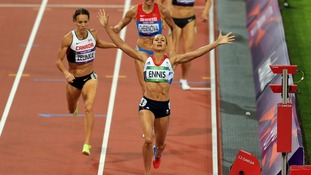 Advertisement
More Team GB reaction to Jessica Ennis' golden win
I don't normally stand up off the sofa for much other than cycling, but I did just that while watching @j_ennis bring home heptathlon Gold!
From
@MarkCavendish
on Twitter:
Daley: Ennis victory is 'moment of the Games'
Absolutely amazing Jess!!! Congratulations! Moment of the games right there!!!
From
@TomDaley1994
on Twitter:
Golden girl Jessica Ennis completes Olympic heptathlon dream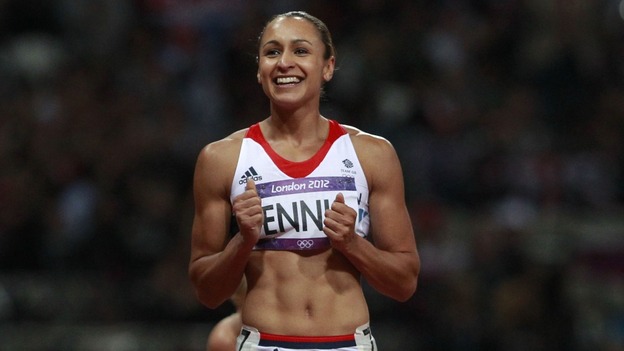 Team GB's golden girl Jessica Ennis has fulfilled her dream of being crowned the women's Olympic heptathlon champion.
Four years after injury forced her out of the Beijing Games, the queen of Sheffield secured the Olympic gold with a winning run in the 800m, the seventh and final discipline.
Old school pride in 'smasher' Jessica Ennis
Teachers from her old school have paid tribute to Jessica Ennis, English teacher Ian Rouse taught Ennis media studies and said:
You would never have known the hours she was putting in with her athletics unless someone told you.

She was very bright, very hard-working and she made a great contribution to the school.

I don't think many people did realise she was putting so many hours into her sport.

She's just a smasher.
Chemistry teacher Zoe Thomas said:
She really is an inspiration.

We've got a big poster of her in the gym. There's a massive picture in the school as well. They all know her and there's a lot of pride

She's lovely - totally unaffected but a total professional. Such an impressive person
Advertisement
Ennis: 'I'm nervous but the crowd helps'
Speaking ahead of her final event later this evening, Jessica Ennis has said she is 'nervous':
"I am so nervous but it helps having the crowd.There is a lot of pressure but it is with people wanting you to do well"- @j_ennis #Athletics
From
@TeamGB
on Twitter:
Ennis in top spot ahead of 800m
Jessica Ennis leads the field going in to the final event the heptathlon. After scoring 812 points in javelin and 1054 in the high jump she is favourite ahead of the 800m, with a total of 5971 points.
Currently second is Lithuania's Austra Skujyte on 5783.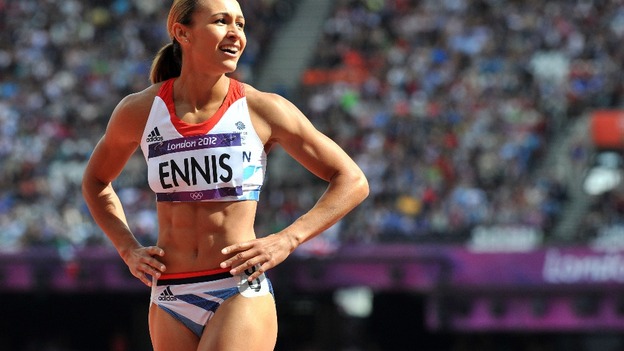 You can watch the final event tonight at 8.35pm.
Ennis 2nd javelin throw edges closer to her personal best
Ennis still on track after long jump and javelin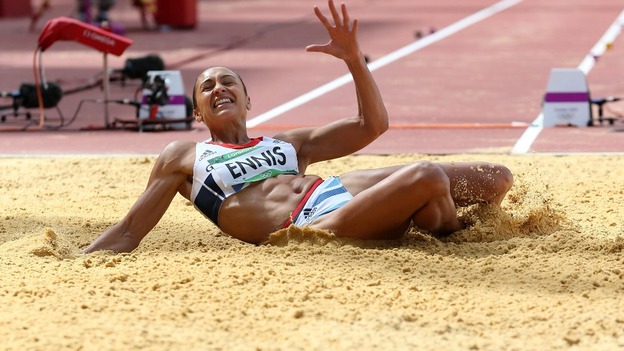 Jessica Ennis has thrown a 46.61m in the javelin, near her personal best, and stays on course for gold after a good third jump in the long jump.
Load more updates
Back to top